Major Housing Project Is Reinventing Mid-Market
April 25, 2017
Mid-Market is fast becoming the place to be without the hefty price tags of other high-end San Francisco districts. The neighborhood is getting a new retail center and a plethora of mixed-income housing is in the works. One of the biggest projects is underway by Trinity Properties, and its latest phase has just been completed.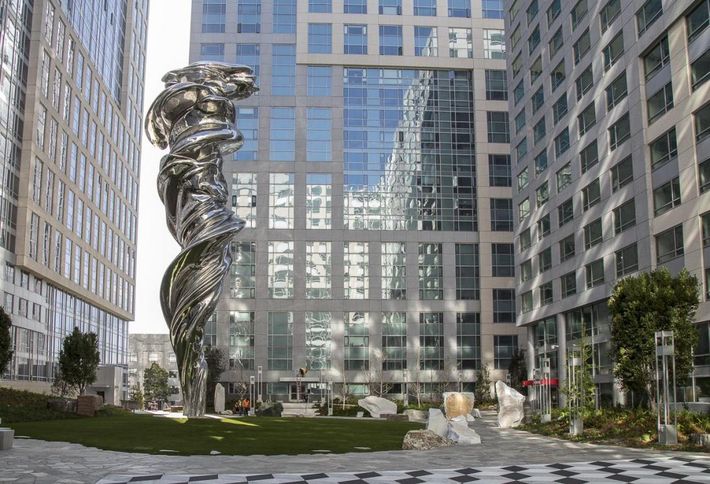 Trinity Place is a project 40-plus years in the making. Trinity Properties executive managing director Walter Schmidt said much of the development process occurred because of good luck and happenstance. The development started during the height of the 2008 housing crisis, but remained a success and helped attract other developers to the neighborhood.
"I think after we made a sizable commitment, especially during the housing crisis, other developers took note and started to read the landscape as well and started to take comfort in the fact that we were building [in this neighborhood]," Schmidt said.
He said his company considers this project a centerpiece with 1,900 units on four acres right at the foot of BART and Muni.
"We feel like we are a great anchor in terms of what has been happening here in Mid-Market," Schmidt said.
Trinity founder Angelo Sangiacomo purchased the site back in the 1970s for future development. Sangiacomo converted an old hotel into apartments that later became rent-controlled. When the company decided to go forward with a larger plan, it connected with Arquitectonica to design four buildings, which includes part of that original hotel conversion.
The first phase on 1188 Mission St. created 216,357K SF of mixed-income housing. Residents living in the old rent-controlled units moved into the new housing in 2010 and the second phase began soon after. The developer razed a small portion of the old hotel to create room for a second parking lot, and was able to keep 60 rent-controlled units and add 418 units to this project. The 210,107 SF Phase 2 on 1190 Mission St. finished in 2013.
After developing the first two phases of the project, Schmidt said his company started looking at what competitors were doing with rentals. Housing was becoming more condo-oriented, especially since apartments were making more economic sense than condos. The rise in high-end apartments gave Trinity the opportunity to explore ways to elevate the third phase. Enter interior designer Figure3.
Figure3 vice president of residential studio development Dominic DeFreitas said his firm found ways to offer a luxury look in the third phase of Trinity Place without the high-end prices. He said the kitchens use laminates for the cabinetry with a deep embossed wood grain finish that makes it difficult to tell it is not wood. He used quartz countertops and European appliances not typical to the marketplace.
Figure3 also wanted to distinguish Phase 3 from the first two phases, which included white kitchens and white appliances and darker wood floors. He said he switched it up in Phase 3, offering a dark gloss cabinet and pale wood flooring.
One unique aspect of Phase 3 is Trinity allowed Figure3 to create model suites for prospective renters to tour in the building. DeFreitas set up a studio, a one-bedroom and a two-bedroom model in different ways to capture the younger tech demographic, an older couple and small family, respectively.
He said the lobbies of the buildings have a boutique-hotel feel and offer high-end design that is visible from street level.
The crown jewel of Phase 3 is a one-acre plaza with a 92-foot stainless steel sculpture of Venus designed by Lawrence Argent. The third phase at 33 8th St. offers 525,485 SF of residential, over 11K SF of retail and 392,529 SF of parking.
Schmidt said Trinity started leasing the building earlier this year, and residents started moving into their new homes in March. There are more than 500 units still available, and rental velocity has been strong.
"We were lucky to come out of construction in springtime," Schmidt said. "When spring is in the air, people tend to make new housing decisions."
The next phase on 1169 Market St. is expected to start in the fall, and construction will last about three years. The 368,500 SF building will have about 500 units and will be predominantly two bedrooms with one-bedroom units and studios sprinkled throughout. There will be 58,725 SF of retail and three levels, or 150K SF, of parking.
Schmidt said the design uses a shadow plane where the taller buildings are back on Mission Street and the buildings are shorter close to Market. The first phase is 24 stories, while the second phase is 22 stories. Phase 3 is 19 stories and the last phase will be 17 stories.
Figure3 will design the interiors of the last phase. DeFreitas said the next phase will have a similar boutique-hotel feel, but the color scheme and materials will be different.
DeFreitas said Trinity has been cognizant of the type of retail in the building to make sure it is conducive to the renters and compatible with their lives. Trinity also has refinished sidewalks and lampposts to make sure they are integrated into the project's design.
He said this project develops the last undesirable block on Market Street.
"We're excited about what these buildings are going to do for that space and that block," DeFreitas said.
Find out more about what's going on in Mid-Market at our Future of Mid-Market event in San Francisco on April 13.
Reprinted from: Bisnow
Back to In The News