10 Places to Picnic in SF
March 12, 2019
The weather in The City By The Bay is beautiful, so let's take a look at 10 places to picnic in SF!  Whether you're looking to pack a lunch from home or stop by one of the many local establishments, San Francisco is loaded with parks that have great views and an even better atmosphere.  Let's venture across SF to see these fantastic picnic locations and the best professionally-managed housing opportunities in the area:
Dolores Park
View this post on Instagram

Already an SF resident? Then there is no need to convince you to spend an afternoon in the sunshine at Dolores Park.  Chances are you already do often! Mission Dolores Park, commonly referred to as simply 'Dolores,' is one of the most popular public meeting spaces in the The City.  Due to Twin Peaks blocking wind and fog to the west, Mission Dolores is often left sunny and clear.  Because of this, the park is commonly packed with locals and tourists alike soaking up the weekend sun and maybe enjoying a drink or two.  Prospective residents of The Mission or Castro District should definitely inquire about Trinity's availability at Casa Dolores, a charming complex complete with a pool and easy access to the park.
Marina Green
Enjoy recreation with a waterfront view? The Marina is just the place for you.  Between the two miles from Fort Mason to the end of Chrissy Field you can find some of the best urban coastal scenery.  This park includes tons of grassy open space and room to spread out your picnic blanket.  Rent a bike, scooter, kayak, or many of the the other fun modes of transportation in the area.  There is no shortage of activity including the Palace of Fine Arts, The Walt Disney Family Museum, and of course the beach!  This is the ultimate space to get Golden Gate Bridge views and enjoy a stroll or lounge around the coast.  If you're looking for a drink at the end of the day, The Marina is known for its plethora of upscale watering holes.  Additionally, apartment-seekers in search of a newly renovated Marina home are in luck!  Trinity offers wonderfully-furnished studio and one bedroom units within our Marina Cove Apartment complex at 1550 Bay Street.  Enjoy life in The Marina with excellent staff, amenities (including a pool), covered garage, gym, and more!
Piazza Angelo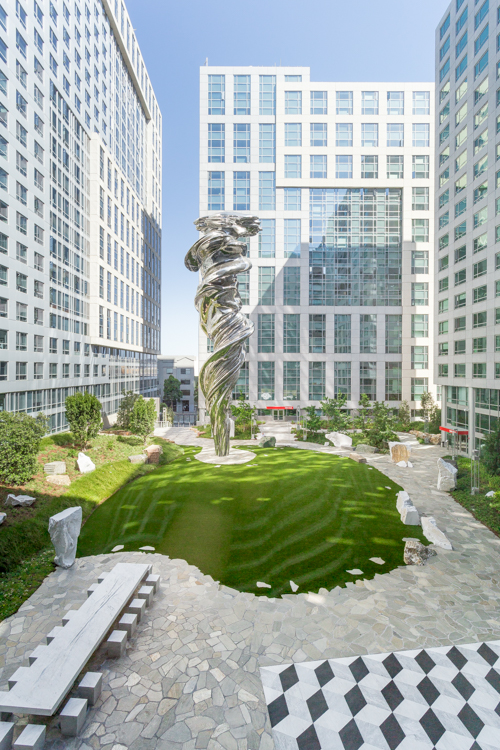 Sometimes the best places can be just a little harder to find.  Located just one block from Civic Center is San Francisco's largest statue and newest public gathering space. The one-acre Piazza, which will eventually serve as a new pathway between Market and Mission streets, has become the permanent home of a singular collection of sculptural art designed by renowned artist Lawrence Argent. The centerpiece of Trinity Place's Piazza is a spectacular 92-foot stainless steel sculpture, Venus, which is San Francisco's tallest sculpture and only slightly shorter than the Statue of Liberty as measured from heel to crown. The installation in its entirety is entitled C'era Una Volta – "Once Upon A Time". C'era Una Volta is an art installation comprised of many parts woven throughout the site, transforming it into a place of mystery and unfolding meaning. Inspired by classical icons of beauty and the stone quarries from which these ancient sculptures were made, C'era Una Volta re-envisions and abstracts classical forms using contemporary digital technologies. Historical fragments appear in transformed ways throughout the central garden and walkways centered around our 1188 Mission, 1190 Mission, and 33 8th Street properties.
Sutro Heights
View this post on Instagram
Want to learn some history while enjoying your lunch?  Sutro Heights is located between Land's End and Ocean Beach, offering a tremendous view of the ocean and Sutro Baths below.  Perfect for walking or biking, Sutro Heights has plenty of trails and is rarely crowded.  Outdoorsy types are sure to enjoy this space and may also be interested in the picturesque 1 bedroom apartment available on Anza Street with views of Ocean Beach.  Have a picnic for lunch and skate over to The Cliff House for dinner!
Elk Glen Picnic Area at Golden Gate Park
View this post on Instagram
Golden Gate Park is massive and loaded with plenty of great areas to enjoy lunch, but the best might be at the Elk Glen Picnic Area.  This heavily wooded area is just off Martin Luther King Drive next to Elk Glen Lake.  The picnic area is near Lincoln Way and our 1239 17th Avenue property.  This allows for easy access both downtown and to Golden Gate Park next door.  Enjoy a peaceful home away from the bustle of The City but close enough for an easy commute.
Alta Plaza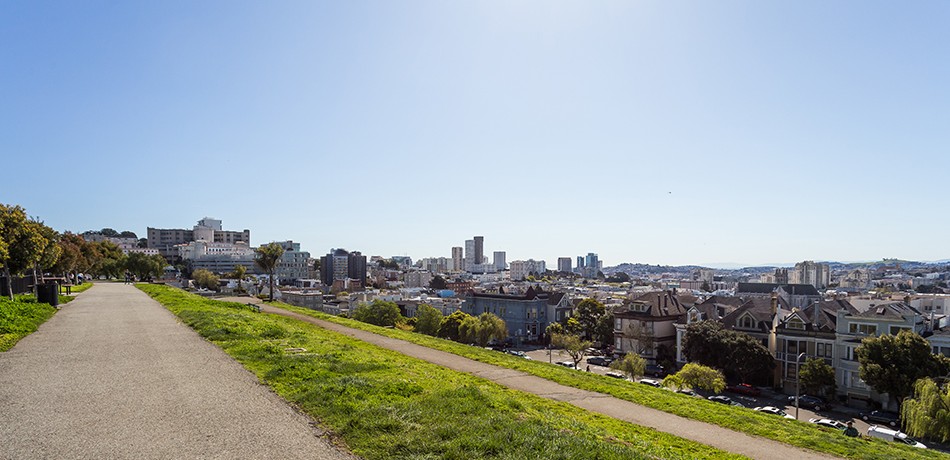 This terraced hillside park sits in the center of The City with views of The Bay, skyline, and hills in the distance.  Appropriately named for its hilltop overlook, Alta Plaza Park's grand staircase has been used in multiple movies including the 1972 Barbara Streisand film, "What's up Doc?"  The park also includes a children's playground, basketball and tennis courts, as well as a dog park.  A popular place for some afternoon leisure, Alta Plaza offers some of the best public views in the Pacific Heights neighborhood.  Fillmore Street is also around the corner from the park and is lined with bars, cafes, patisseries, and much more!.  At the corner of Fillmore and California, you will find stunning one bedroom apartments with views of the skyline and park out of your window.  Trinity also offers fully-furnished studio, 1 bedroom, and two bedroom units for rent in our towering 2000 Broadway Apartments.
Lafayette Park
Another fantastic Pac-Heights picnic spot is Lafayette Park.  Although not as steep, Lafayette Park sits atop a hill and allows for great views of the surrounding city.  Make sure to bring your four-legged friend as the dog park here is one the best in San Francisco.  This park is most popular with locals living in the area looking to relax and enjoy the nice weather.  Residents at our Clay Park Tower apartments often make the two block stroll over to the park to enjoy the outdoors and their lovely neighborhood.
Aquatic Park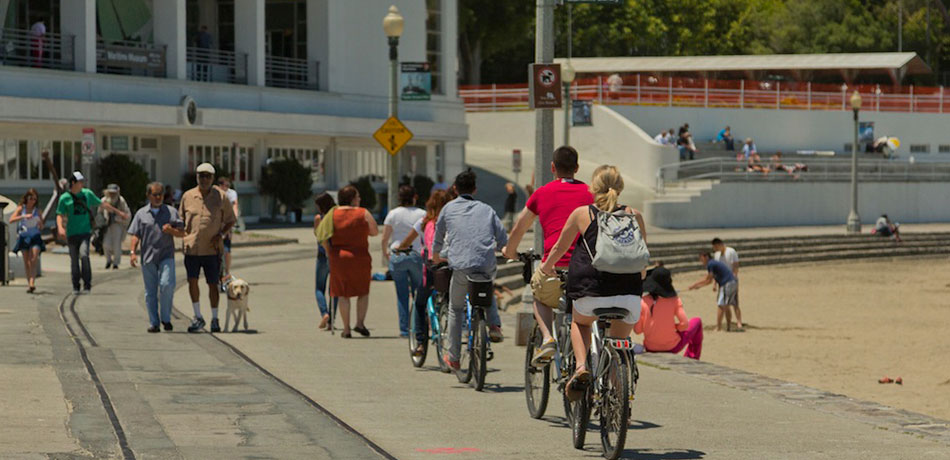 San Francisco's 'Aquatic Park' is positioned at the northern end of Hyde Street and includes Ghirardelli Square, the Hyde Street Pier, The Maritime Museum and National Historical Park, along with plenty of open grassy space in the Maritime Garden.  The park also includes bleachers for seating and swimmers can be seen getting their laps in.  This section of Hyde Street is a popular tourist destination with proximity to Fisherman's Wharf, transportation rentals, and the end of the Hyde Street Cable Car line.  Patrons can be seen along Beach and Hyde Street enjoying The Buena Vista, Gary Danko, and of course The Ghirardelli Chocolate Company.  This neighborhood is one of the most desirable places in San Francisco and Trinity is proud to offer luxurious one, two, and three bedroom high-rise apartments atop Russian Hill at the corner of Hyde and Chestnut.  Picture yourself living with panoramic bay views and quick access to some of San Francisco's most well-known landmarks.
Pioneer Park
Home to one of San Francisco's most famous landmarks, Coit Tower, Pioneer Park is a public space donated to the city by George Hearst in 1876 to celebrate America's 100th year as a country. It was named after San Francisco's first residents and a bronze statue of Christopher Columbus was erected in 1957 as a gift from the city's Italian-American community. The nationally known tower that sticks out high above San Francisco's streets was built in 1932 as a request from the late Lillie Hitchcock Coit. She was a wealthy socialite and fire chaser who donated funds for the tower to beautify the city of San Francisco and honor San Francisco's volunteer firefighters.  Today, housing within this beautiful neighborhood is scarce but there are available studio and 1 bedroom apartments for rent at 350 Union Street.  These Telegraph Hill apartments come fully-furnished and we offer a wide range of units from newly-renovated to units containing traditional furnishings.
Washington Square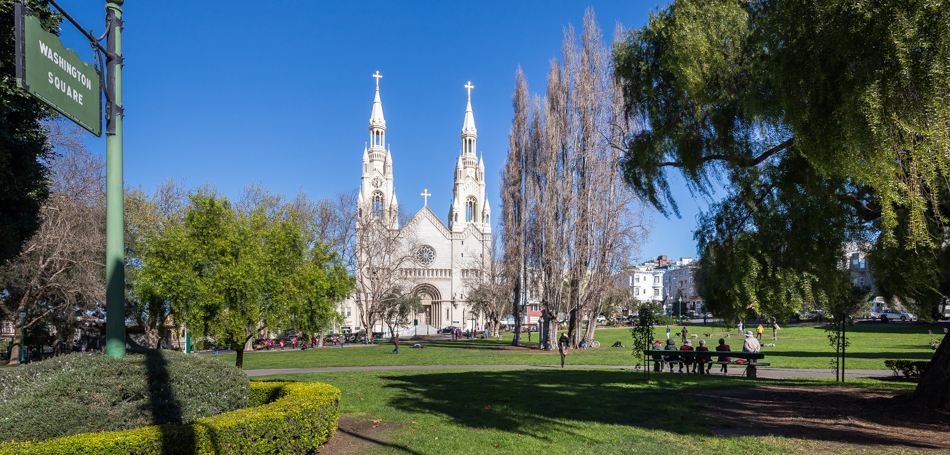 Just down Union Street at Columbus Avenue is the bustling Washington Square, Relaxing yet busy, Washington Square features a large grassy park surrounded by many delicious cafes, restaurants, and bars. Known as San Francisco's "Little Italy," this corner of The City will not leave you hungry.  The North Beach neighborhood has a rich history and is known for its great diversity.  Tourists often frequent Fisherman's Wharf and Pier 39 but Washington Square tends to maintain an old-fashioned 'San Francisco feel.' This is the best place to be if you're looking to enjoy a delicious slice in the park.  Trinity manages both a fully-furnished modern high-rise on Taylor Street a few blocks over and two unfurnished properties on Stockton Street.  No matter which type of North Beach property you're looking for, Trinity has you covered!
Back to Blog