10 Ways to Identify a True San Franciscan by their Style
March 3, 2015
How do you spot a San Franciscan? While they're as diverse as our distinct neighborhoods, they definitely have some unique traits that set them apart from the rest of the west. Whether the 7-by-7 has been your home since birth or you've adopted The City as your own after moving here for a job, here are some sure-fire ways to know you are dealing with an SF resident.
1. Layers
Even if it's a sunny 72 degrees midday while you're lounging at Dolores Park, when the fog rolls in around 5 or 6 p.m., you are going to regret not putting that jacket over your sweatshirt in the morning.
2. With a Clipper Card in hand.
This is your literal ticket to get around town, whether it's to take a MUNI bus to your FiDi office or to jump on the BART to get to the East Bay way faster than on the congested Bay Bridge. If you've got a loaded Clipper, you can even take a ferry ride across the Bay. Seasickness not included.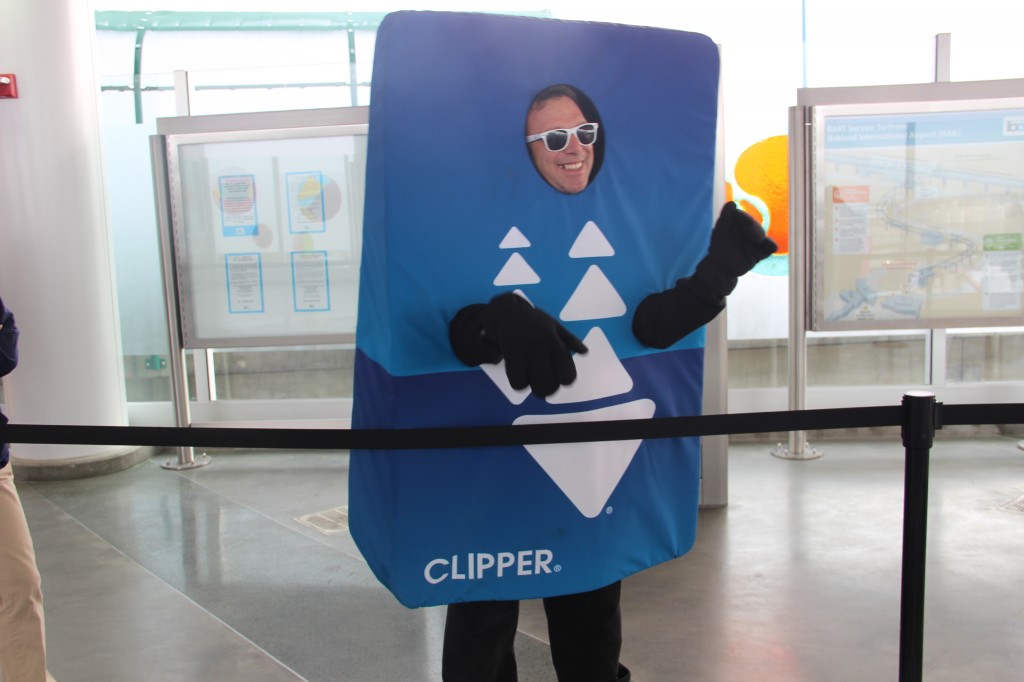 3. Giants apparel
On game day it's hard to miss the masses sporting orange and black. Many are on their way to AT&T Park: the best place to watch the three-time champions play baseball while you taste on some garlic fries with a view of the bay. Is it an even year yet?
4. Startup Gear
Instacart, Twitter, foursquare. If it's an app on your smartphone, it's probably based here. You can bet that all those coders are rocking their company's hoodies and drinking coffee with the logo emblazoned on their mugs.
5. Cyclists
Although San Francisco is a city with a high walkability score wherever you may be, you're also just as likely to spot your fellow residents rocking a blinking bike light with one pant leg rolled up. Add a helmet that's strapped on tight and watch as these San Franciscans ride down bike-friendly routes on Valencia Street and through the Wiggle — a hill-free passageway through the heart of the city.
6. Tourist Apparel for the Non-Tourist
This might be buried in the back of their closet, but many transplants will have a San Francisco tourist shirt purchased at Pier 39 and Fisherman's Wharf from that first time they visited (and fell in love with The City by the bay, promising they would come back…this time with layers. See #1.)
7. Laid-back dress code
"California casual" is the standard in SF. Wearing something other than jeans and a T-shirt is reserved for special occasions. Here we tend to party at museums, (it's a thing—discussing a T-Rex's prehistoric bones while drinking a craft beer), and we don't think they'd mind if we're wearing plaid (and tattooed for that matter).
8. Dogs…dogs everywhere!
Pup lovers unite! In this city you're more likely to run into someone's pooch than a child. Many residents can be found with furry companion in tow heading to dog-friendly favorites, including Duboce Park, Esprit Park in Potrero, Fort Funston, and Crissy Field.
9. Waiting in line
City slickers are sure to be spotted giving hours of their busy days just to eat some of San Francisco's best offerings. Lines are guaranteed at Swan Oyster Depot on Polk Street, Dottie's and Brenda's in the Tenderloin, Plow for Potrero Hill brunch, Mama's in North Beach, or wherever the Filipino-fusion food truck Señor Sisig happens to be that day.
10. Bearded or 'stached
This may apply to only half the city's residents, but when walking through the Mission, riding the bus, or hitting up Zeitgeist and other local bars, you'll notice a preponderance of facial hair. A flannel shirt often accompanies the hirsute men.
Back to Blog