33 8th Residents Share Their Favorite Home-cooked Meals
December 20, 2017
Residents at 33 8th at Trinity Place love to put on their chef hats! Residents shared some of their favorite dishes to cook at their brand new kitchens, from Taiwanese hot pot to caprese chicken, the dishes were impressive. Check them out in the above slideshow! We were very excited to see our residents take advantage of their kitchens 🙂
Below is the recipe for mac & cheese with lobster meat from one of our residents:
INGREDIENTS
1 box macaroni
¼ cup butter
¼ cup all-purpose flour
1 cup milk
1 cup cream
2 cups sharp cheddar cheese, shredded
½ cup parmesan, shredded
salt and pepper
red pepper flakes or hot sauce, to taste
½ panko crumbs (optional)
1½ cups cooked lobster or crab meat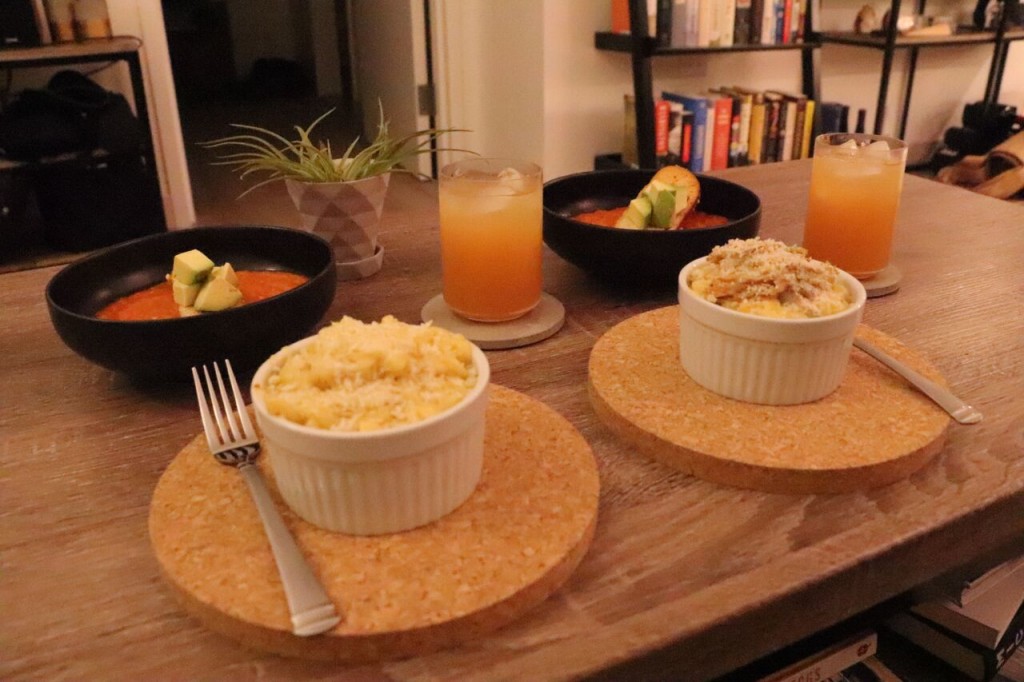 DIRECTIONS
Cook macaroni according to package directions and set aside.
In a small saucepan, gently heat milk and cream. Do not let it come to a boil.
In a medium saucepan, melt the butter over medium-high heat.
Once the butter is melted and frothy, add flour and whisk.
Whisk constantly until the butter and flour mixture are totally combined and become a golden brown colour – about two or three minutes. This is called a roux.
Carefully pour your milk and cream into your roux, whisking constantly. Use extreme caution as the mixture will bubble up and you don't want to burn yourself.
Continue to whisk until the mixture is smooth and has thickened – another one or two minutes.
Add the shredded cheddar cheese and whisk until it has fully melted.
Add the shredded parmesan and whisk until it has fully melted.
Add salt, pepper and any other seasonings you'd like, stirring constantly.
Pour cheese mixture over macaroni and stir thoroughly.
Add red pepper flakes and lobster meat and stir to combine.
For baked mac and cheese, pour mac and cheese into a casserole dish or individual ramekins.
Top with panko crumbs and bake at 350 until the panko crumbs have become golden brown.
Learn more about living at 33 8th at Trinity Place today!
Back to Blog