Civic Center: A Neighborhood Guide
June 24, 2015
Often misconceived, the neighborhood of Civic Center is full of hidden gems and historic landmarks. It's positioned in the center of downtown San Francisco, which makes public transportation a breeze to get anywhere in the city. Nob Hill, SOMA and the shopping mecca known as Union Square are just some of the surrounding neighborhoods, so you'll never run out of places to see while in this centrally-located neighborhood. Civic Center is also home for a lot of the big parades, festivals and concerts. You can BART, Muni, bike or even walk anywhere in downtown from Civic Center. We've put together a list of some must-try places in this unique, urban neighborhood.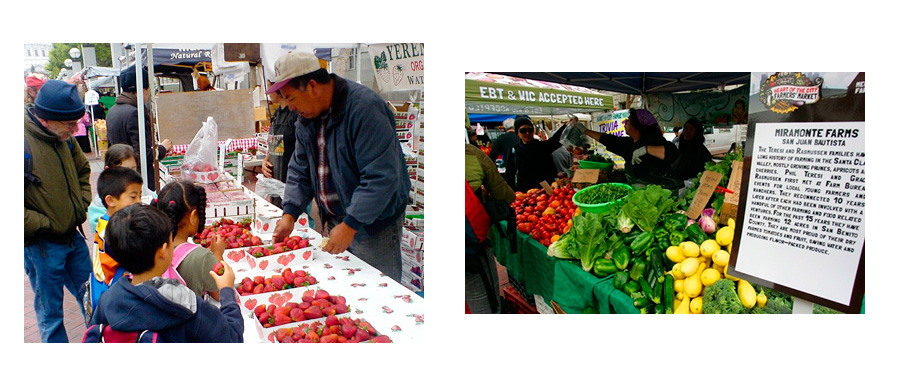 Farmers' Market: Conveniently located directly outside Civic Center BART station, this farmer's market gives all the others a run for its money. While it doesn't compare in size to the one at the Ferry Building, this intimate farmer's market has the freshest produce, frozen fish and decorative house plants at extremely affordable prices. Every Sunday and Wednesday, you can zig-zag through the booths that line the brick-strip of the U.N. Plaza and support small local farmers who strive to bring low-cost, high-quality produce to the Heart of the City.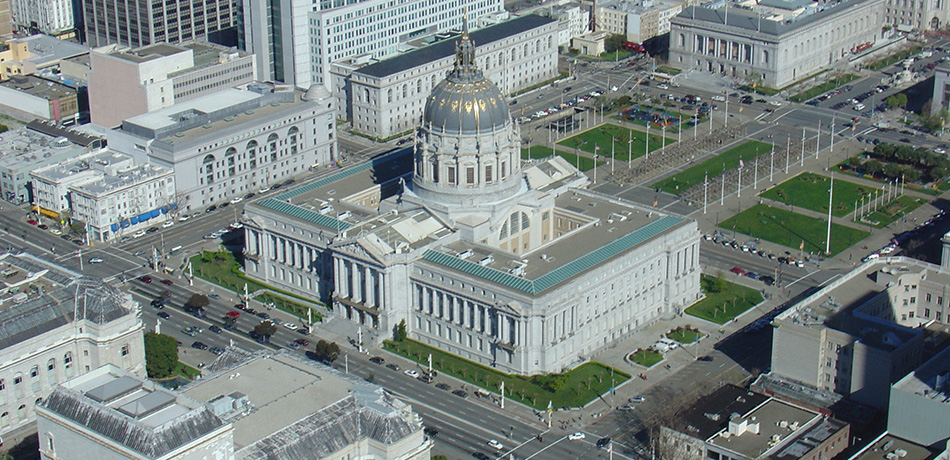 City Hall: After a stroll through the farmer's market at the U.N. Plaza, walk straight across to the iconic City Hall building. It was destroyed by the 1906 earthquake and re-opened in 1915 with the structure's dome being the fifth-largest in the world. You can't help but be in awe of this building's beautiful architecture, breathtaking interior and regal staircase. This is also a popular location for weddings because of the picturesque main room; Marilyn Monroe and Joe Dimaggio tied the knot here! You can take a free tour of the building on Tuesdays and Thursdays at 11am.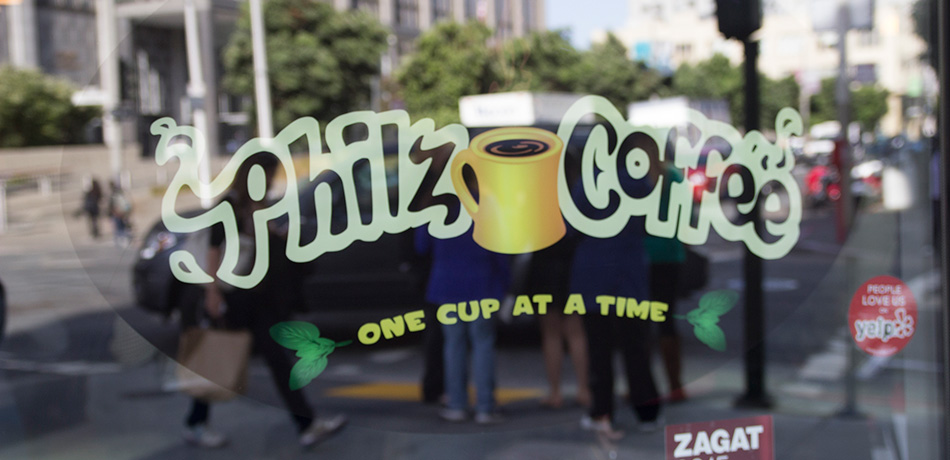 Phil'z Coffee: San Francisco is a city full of coffee enthusiasts and Phil'z Coffee has created the perfect cup-of-joe since 2003. With over 20 different blends ranging from light to dark roast, Phil'z delivers authentic-tasting coffee for any type of coffee lover. Phil'z uses a single-cup brewing system that ensures each cup is made personally to your liking. If you're looking for an undeniably exceptional cup of coffee and contagious smiles, Phil'z is the perfect way to jump start your day.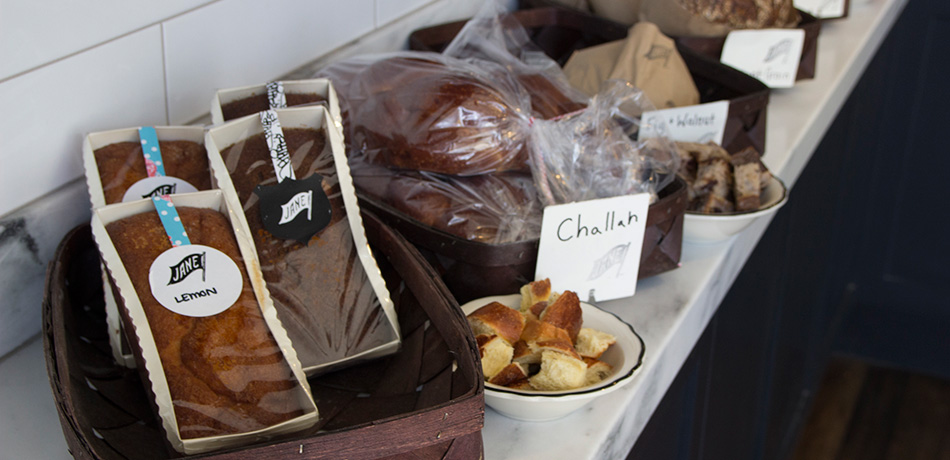 Jane on Filmore: Cinnamon roll with espresso icing? Baked french toast with fresh blueberries? Yes, please! Whether you've got a sweet-tooth for a home-made pastry or a craving for a healthy, vegan panini, Jane is The Spot to go for an unforgettable breakfast, lunch or dessert. Jane isn't very noticeable from the street as it doesn't have a sign on the exterior, but the crafty, yet simple decor and gigantic, welcoming windows will be sure to catch your eye.
Saigon Sandwich: Don't be turned-off by the line spilling out the door for this hole-in-the-wall joint. It's pretty undeniable that Saigon has some of the most delicious Bahn Mi sandwiches San Francisco has to offer. With only a few employees working at a time, you'd be surprised at how quickly they dish-out each order. Saigon wraps up your choice of flavorful meat with fresh veggies in a soft, toasty bun for a price that just doesn't seem right. But believe it because you can get a sandwich and a drink for as low as $5.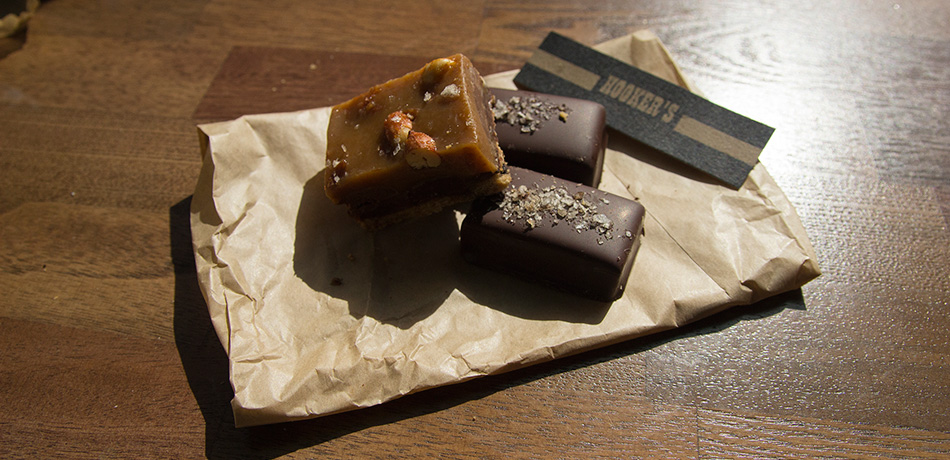 Hookers: Although the name is questionable, the salted caramels that are made in this local chocolatier are anything but. They're carefully made with the hope of being the finest caramel you have ever tasted. Original sea salt caramel, nut caramel, cookie caramel and more! Not only does Hookers sell the best caramel squares, but their bread pudding will soon be on the list of "Best Desserts You've Ever Had." Try it with some of Hooker's house coffee or tea.
Union Square: As Union Square is one "must-see" destination in downtown San Francisco, it's one of the most popular tourist attractions there. A good piece of advice is to avoid going to Union Square directly before or after Christmas Day, or else you'll drowning in tourists who are trying to get photos with the Christmas decorations and frantically getting last-minute holiday shopping done. Take a break from all the shopping and have a slice of cheesecake on the top of the Macy's at the Cheesecake Factory. You can also hop on the iconic San Francisco cable car from here, win-win.
Hogwash: Sausage and beer, anyone? After doing a little shopping in Union Square, stroll right down the street to refuel at Hogwash. This contemporary gastropub recently opened in December and isn't going anywhere soon! Hogwash isn't your typical San Francisco gastropub. Choose from a selection of 30 craft beers on tap and pair it with a juicy, homemade sausage as you soak in the sleek, modern-day decor and lively ambiance of Hogwash.
Tender: End your busy day exploring Civic Center/downtown with a relaxing glass of wine at Tender. The comfortable ambiance and friendly staff will be sure to make you feel at home. Tender features a not-too-overwhelming, yet not limited list of wines, which you can order by the glass, half carafe or full bottle. You can enjoy a flight in the main bar or take your glass upstairs to the lounge, where you can admire the framed art on the walls or people-watch from the couch near the window. Don't forget to order the cheese plate to get the full wine and cheese bar experience at Tender.
The area of downtown near Civic Center is a lively, avant-garde part of San Francisco that is always has something going on. There's a perfect mixture of tourist attractions and local spots to balance anyone's mood in the chaos of downtown.
Back to Blog