New Golden Gate Park Attractions
November 5, 2020
It is no secret that a 150-foot 'Observation Wheel' has recently sprouted up above Golden Gate Park's lush landscape, but do you know about the other wonderful new attraction making its way to The City's largest greenspace? A "Whimsical Wonderland of Lights Coming to Golden Gate Park," will arrive this winter in Peacock Meadow. Take a journey with us to San Francisco's largest outdoor public space and explore the newest Golden Gate Park Attractions available to all!
Observation Wheel
View this post on Instagram

To celebrate the 150th anniversary of Golden Gate Park, The City installed the 150-foot "Skystar Observation Wheel" just outside the de Young Museum, California Academy of Sciences, and Japanese Tea Garden. Providing sweeping views of the downtown skyline, Twin Peaks, Sutro Tower, Presidio, and park 15 stories below, this brand new SF landmark will provide you with unique 360-degree views. Popular with locals and tourists alike, each of the 36 fully enclosed, climate-controlled gondolas are thoroughly cleaned after each use and will only be shared by people of the same household. Buy your tickets to experience SF's newest attraction >>>
'Entwined' Art Installation
Although many of The Arts were put on hold during 2020, the San Francisco Recreation and Parks Department announced an "enchanted forest of otherworldly shares and ever-changing light" would be open from December through February. Positioned on JFK Drive between McLaren Lodge and the Conservatory of Flowers, visitors will be able to socially-distance themselves on multiple paths as they view illuminated sculptural tree canopies composed of 2,000 LED lights. The meadow will be filled with changing light inspired by nature, including raindrops, lightning storms, wind, tall grass, flowers, and ripples on water. This dazzling public display will be accessible to all and represents a creative and safe way to celebrate the holidays during an unpredictable year.
Other Golden Gate Park Attractions
No matter which activity you like to do outdoors, Golden Gate Park has a place for you! With athletic fields including Kezar Stadium, baseball diamonds, a polo field, the multi-purpose Beach Chalet Fields, Golden Gate Park Golf Course, and the Golden Gate Park Archery Range, there are plenty of opportunities to stay active. Aquatic adventures are also available within the park's grounds as the paddle boats on Stow Lake provide a lovely look at the newly installed Observation Wheel. If 2020 has been a little too hectic for you, there are plenty of places to stop and smell the flowers in Golden Gate Park, such as the SF Botanical Garden, Japanese Tea Garden, Conservatory of Flowers, Tulip Garden, and the Golden Gate Park Nursery. However, animal lovers may find themselves migrating to the ever-popular Bison Paddock, Bercut Equitation Field, or Golden Gate Park Dog Training Area.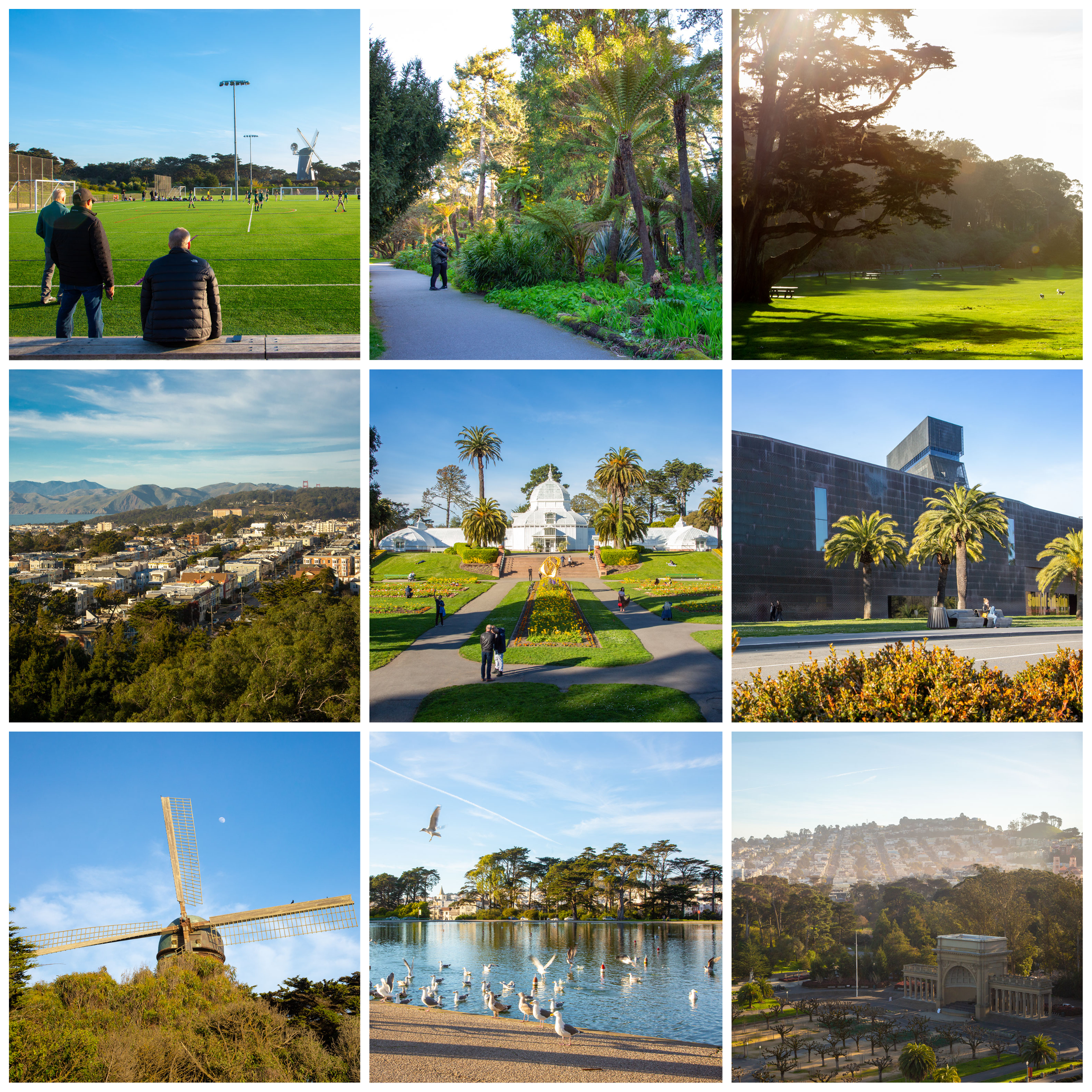 If you'd prefer to make your own picnic, adventure, or just spread out and enjoy your own outdoor space, some popular spots include Robin Williams Meadow Picnic Area, Bunny Meadow, Great Meadow, Strawberry Hill, Elk Glen Picnic Area, Lindley Meadow, and Old Speedway Meadow Picnic Area. Regardless of which Golden Gate Park attraction you choose, you're bound to enjoy a tremendous outdoor experience in the exquisite San Francisco weather.
Back to Blog