Trinity SF Regional Property Managers, Loren Atienza & Sean Halladay
Jobs Available With Trinity SF
May 14, 2021
The team behind San Francisco's finest furnished and unfurnished apartments is growing, and you may be a perfect fit! Explore the jobs available with Trinity SF and learn from current staff members why we love where we work.
Each of these opportunities is located across our portfolio within the beautiful City by the Bay. Take a look at the Trinity SF Neighborhood Guide to see a map view of our properties in iconic San Francisco locations such as Russian Hill, Pac-Heights, and North Beach.

When it comes to helping San Franciscans love where they live, it all begins with our fantastic Leasing Agents. This dynamic position will take on many duties, including touring prospective residents around our beautiful communities, conducting move-in and move-out experiences, and creating comparative market surveys to ensure competitive market pricing at the community. If you have exceptional customer service skills, sales experience, and a strong work ethic, apply today!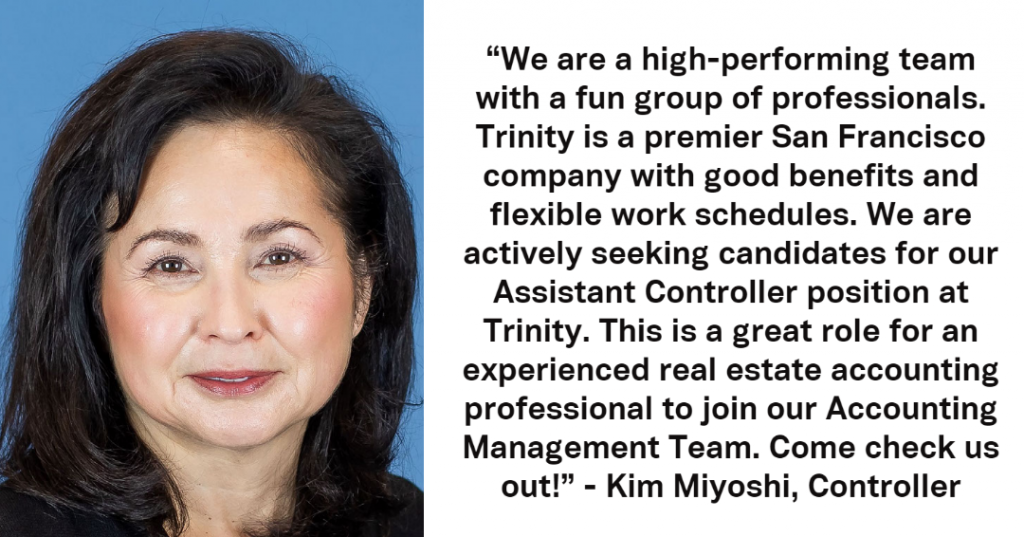 Located at our corporate office at 1145 Market Street, the Assistant Controller will maintain company financial policies and procedures by providing direction to various accounting functions such as cash management, cash flow, bank reconciliation review, cash receipts, and AR audits. Among the various crucial tasks this role encompasses, the Assistant Controller will assist with developing, reviewing, and maintaining internal controls for the company.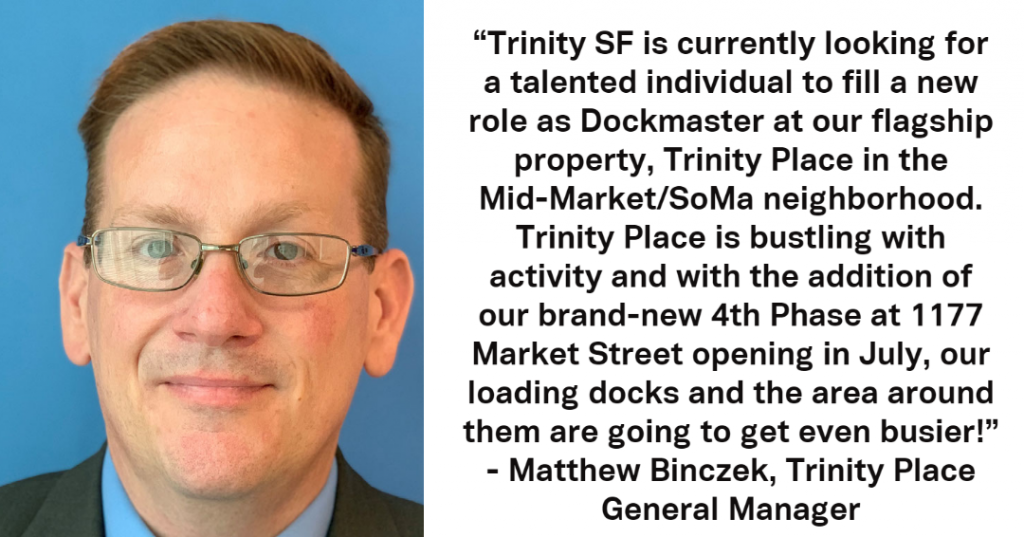 The Dockmaster at Trinity Place will work closely with office staff, residents, and vendors to keep traffic flow in our loading docks and surrounding areas clean, smooth, and problem-free. In this position, no two days will be the same, and you will never be bored. Since this is a new role for us, you will help shape what it becomes. Trinity is extremely adaptable and open to new ideas and will depend on your feedback and experience to help us grow and improve our operations.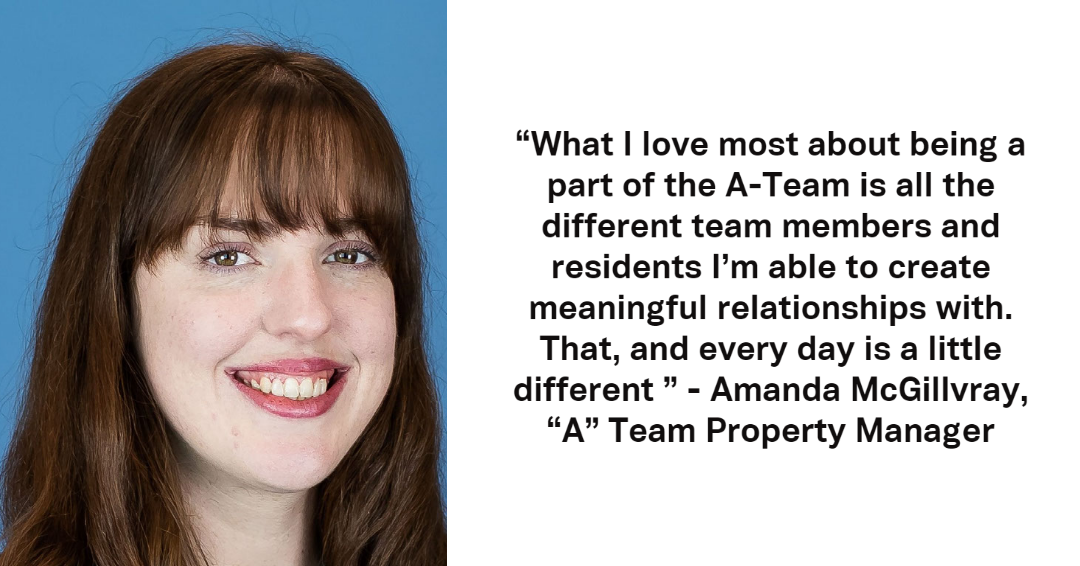 The Assistant Property Manager role on Trinity's "A" Team is truly unique as this individual will have the opportunity to work at different locations across The City. Assisting in various tasks involving residents, prospects, and vendors, an ideal Assistant Property Manager is ready to help in many ways. This position will complete tasks such as coordinating lease terminations, preliminary inspections, and apartment turnover to ensure the market-ready condition of apartments.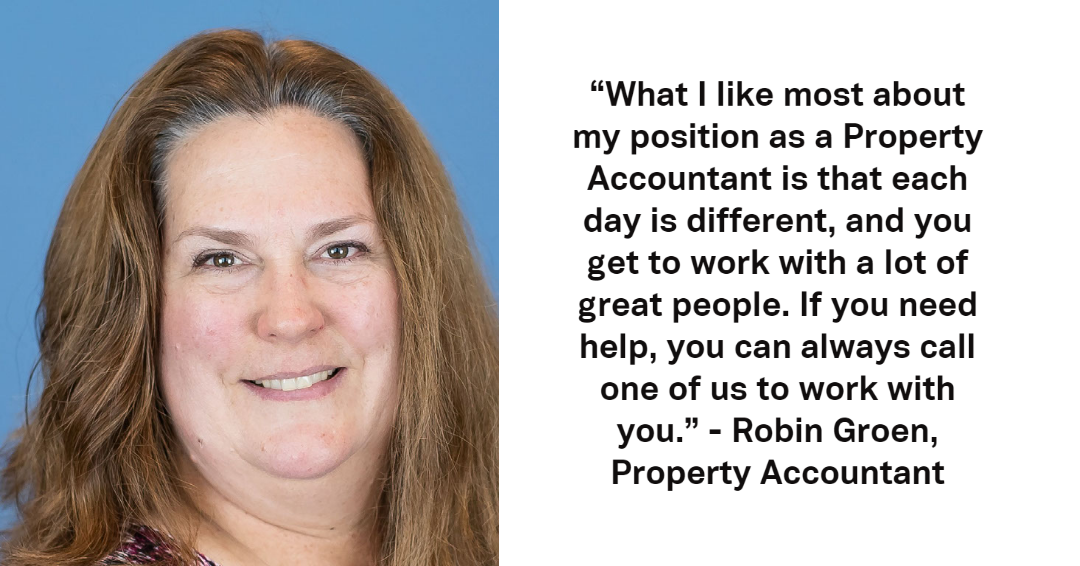 Working under the direction of Trinity's Assistant Controller, our Property Accountants reconcile all tenant-related accounts such as accounts receivable and security deposits to the general ledger and prepare month-end expense accruals, including review of accounts payable transactions for accuracy. An ideal candidate is detail-oriented and manages and posts a large volume of data with speed and accuracy. This position will directly communicate with property operations staff throughout the month to handle accounting-related issues.
Don't forget to check out all of our available positions at trinitysf.com/careers!
Interested in a best-in-class San Francisco apartment? Browse our furnished or unfurnished inventory available within San Francisco's best neighborhoods.
Back to Blog