North Beach Bliss
November 1, 2018
Positioned near Pioneer Park and Pier 39, these properties provide proximity to a majority of the city.  Nestled just steps from the world-famous Coit Tower, our beautiful 350 Union Street apartments offer unbelievable Bay Area views from the top of Telegraph Hill.  This 90 unit North Beach property has availability in our furnished apartments at a reasonable price.  As noted from the astonishing images, this complex boasts a secluded roof deck with views of Coit Tower, both bridges, downtown, and across the greater Bay Area.
With lounge chairs and tables placed conveniently for your leisure, this setting is the perfect place for a relaxing afternoon.  Popular with tourists, the top of Telegraph Hill is an especially quiet neighborhood that is near downtown and also away from the commotion.  An exquisite location to call home, Union Street delivers a true neighborhood feel while also supplying activity at the many bars and restaurants near Washington Square.  Ripe with parks and recreational opportunities, North Beach is a paradise for bikers, runners, and any sort of adventurer.
Your commute downtown will also be a snap due to the many local transportation options including cable car lines to give you that unique "San Francisco" feel.  With Columbus Avenue passing straight by Washington Square, traveling to the Financial District is a simple walk through historic Chinatown.  San Francisco's greatest features will be right at your fingertips.  Luckily, Trinity has units available at both of our properties on Union Street; 305 Union and 1059 Union. The latter is located further west down Union Street on Russian Hill.  This elegant property near the well-known winding section of Lombard Street features a beautiful courtyard and hilltop outlook straight towards Coit Tower.
This area is also home to a multitude of playgrounds named after local and world-renowned legends such as Alice Marble, Joe DiMaggio, and Michelangelo.  Just strolling through the neighborhood it is difficult to go more than a few blocks before seeing green grass and open spaces for children and adults to enjoy the glorious Northern California weather.   Also in the North Beach neighborhood is our beautiful Crystal Tower located at 2140 Taylor Street.
This popular area just off Lombard is near many exciting venues including comedy clubs, museums, art galleries, libraries, and much more.  Additionally, if you're worried about groceries and household needs, you're in luck.  The NorthPoint Centre at Fisherman's Wharf is home to both a Safeway and Trader Joe's as well as a multitude of other popular box stores and fancy boutique shopping.  However, if you are looking to avoid shopping and crowds, the San Francisco Maritime Museum and Garden is one of the more peaceful locations in the city.  Near Ghirardelli Square and Chestnut Street, this grassy public space often hosts weddings and events year-round due to the stunning scenery.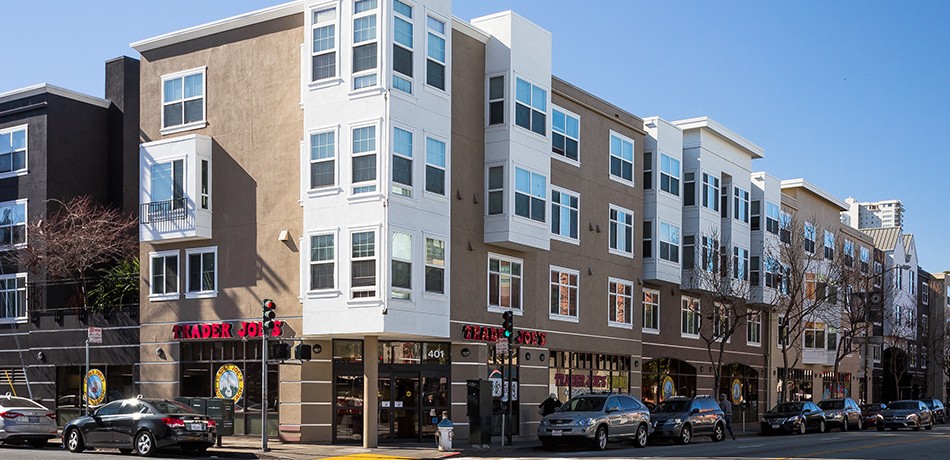 There is no shortage of venues to visit in North Beach, as locals and tourists alike flock to the neighborhood on weekends to enjoy the weather, views, and all-around fun.  From the many cable car lines to the Pier 41 ferries, there is virtually nowhere that you can't access.  If you're not already sold on this tremendous neighborhood, let's now take a closer look at the availability that Trinity has at each of these three properties.
Currently, our property at 350 Union Street has available studio apartments.  You will only need to pack clothing as these units come fully furnished and stocked with modern appliances already in them.  You can be enjoying the wind in your hair from our roof-deck today since moving to a Trinity property is truly a breeze.  This quaint location is perfect for anyone looking to relax after a long day.  Tranquil and peaceful, the top of Telegraph Hill will make you forget that you are living in the center of a bustling city.  However, look out your window and you'll be greeted by panoramic sights across the downtown skyline.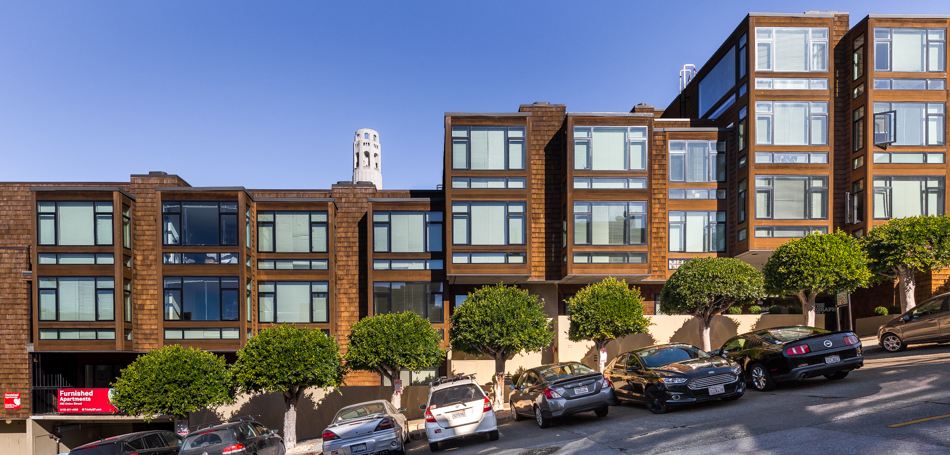 Once you cruise down Telegraph Hill on Union Street past Washington Square, you will start ascending up Russian Hill before arriving at 1059 Union.  This stunning complex has a beautiful courtyard and of course offers hilltop scenery.  Unlike many of our other properties, the units at 1059 Union are not furnished and are open for you to design your own home interior.  This property is perfect for those looking to find availability in a two bedroom apartment in the Russian Hill/North Beach area. This serene apartment complex is both quiet and in the center of the city.  Standing on the rooftop deck you can see across the bay and even hear the sea lions barking down below at Pier 39.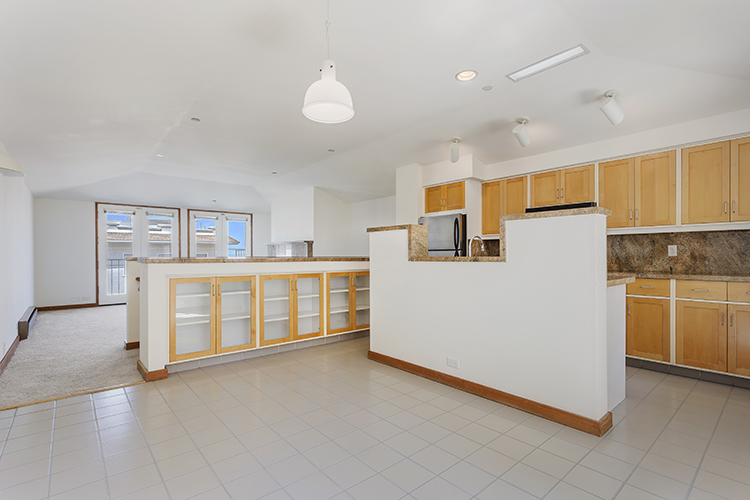 If you're looking to elevate your lifestyle, our gleaming Crystal Tower is the premier fully furnished high-rise in North Beach.  This fourteen story tower has availability in multiple 1 bedroom and 2 bedroom units in which many include some of the most picturesque views that the Bay Area has to offer.  With large decks and open floor plans, these North Beach apartments are the ideal setting to host any sort of gathering.  Units facing north will see a direct shot at Alcatraz, Marin and beyond.  Units with views to the south can look out upon the beautiful downtown concrete jungle down below. As you enter the towering property at 2140 Taylor you will be greeted by a charming garden and pool patio.  A perfect area to unwind and socialize.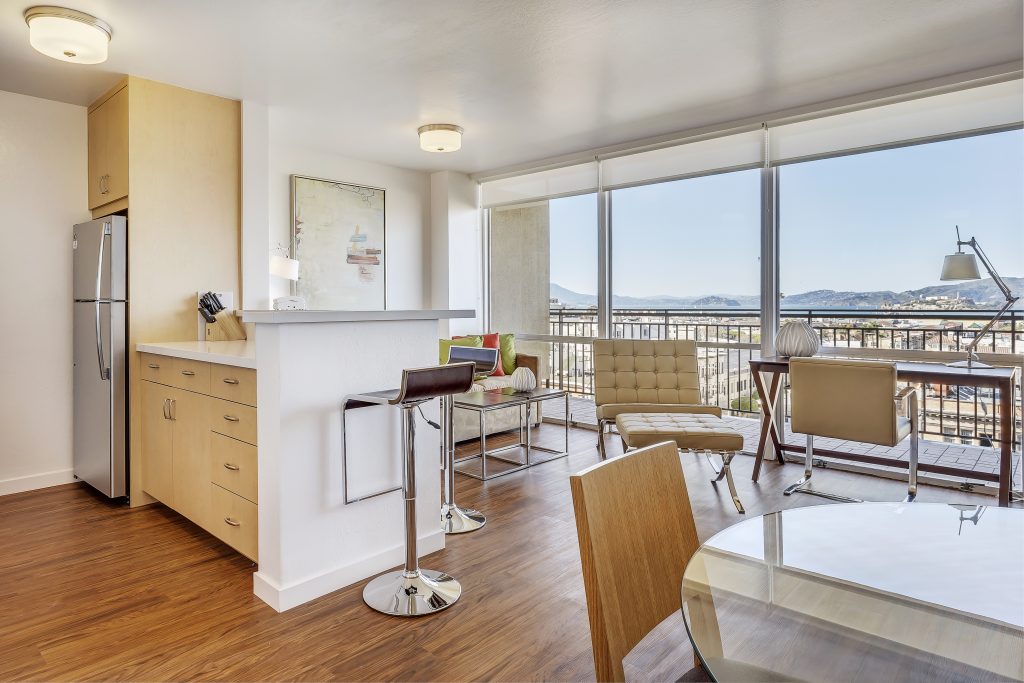 Whether you're looking for a studio, 1 bedroom, or 2 bedroom apartment in North Beach, we have availability.  Contact Trinity today to tour these magnificent properties.  If you're looking for fully furnished and unfurnished units available at other properties across the city, visit our neighborhood guide to view them all!
Back to Blog