View Public Art at Trinity Place
February 28, 2022
Trinity Place, located off 8th Street between Market and Mission, includes an array of art installations for all to view in the heart of San Francisco's burgeoning Mid-Market district. Learn the history of this spectacular mixed-use development and how these many gorgeous works of public art at Trinity Place came to fruition.
Trinity Place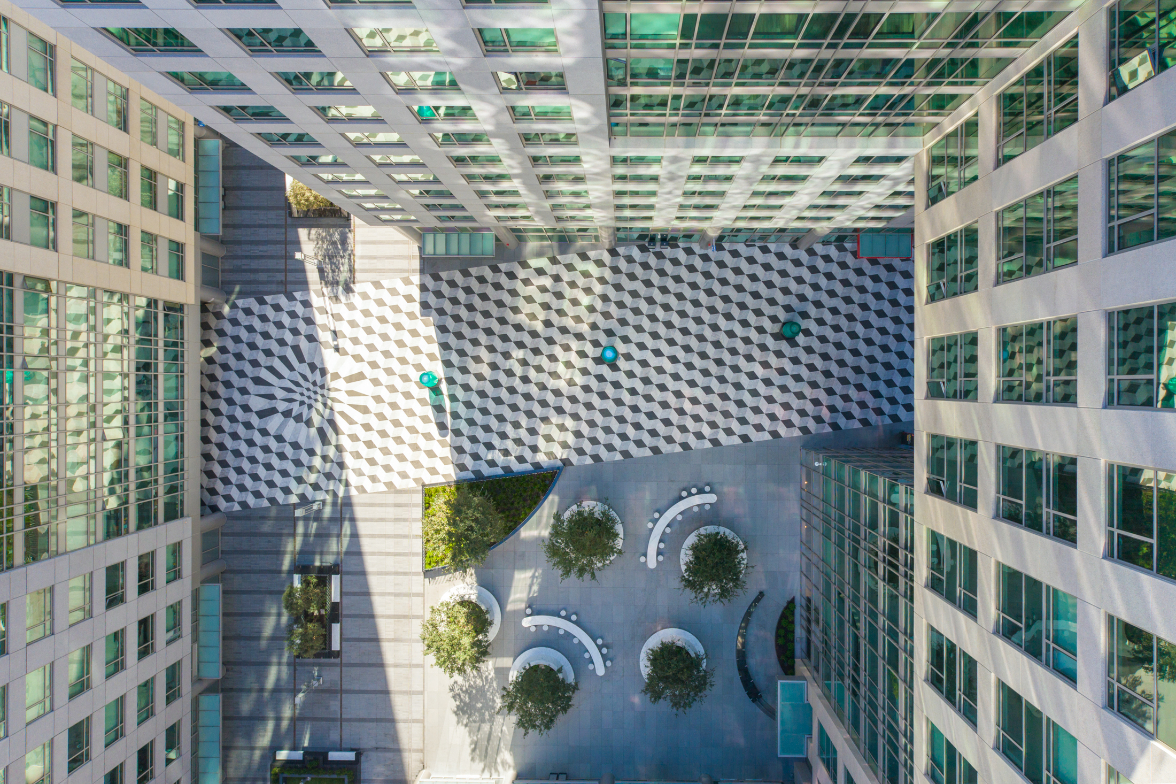 Trinity Place is the vision of longtime San Francisco real estate developer Angelo Sangiacomo, who purchased the 4.5-acre site in 1977, began construction of Trinity Place in 2007, and welcomed the first residents in 2010. Sangiacomo, who passed away in December 2015 at the age of 91, called Trinity Place his lifetime dream and created the piazza and its art collection – C'era Una Volta ("Once Upon a Time") — as a lasting gift to his beloved San Francisco. Trinity Place comprises four high-rise apartment buildings designed by the internationally-acclaimed architecture firm Arquitectonica. Phase 1 was completed in 2010 and Phase 2 in 2013, and each has been fully occupied since opening. Phase 3 opened in March 2017, and Phase 4 at 1177 Market Street welcomed its first residents in July 2021. With San Francisco facing an ever-increasing housing demand, the completed complex provides a mix of 1,900 junior one-bedroom apartments, one-bedroom apartments, and two-bedroom apartments. The more than 230 Trinity Place apartments offered at below-market-rate are integrated throughout the four high-rises and feature the same beautiful finishes as the market-rate units. Anchored by a Whole Foods, which is the San Francisco Flagship store, and encompassing more than 95,000 square feet of planned retail space, Trinity Place provides convenient access to an array of the city's best dining, shopping, and other services — further contributing to the revitalization of the Mid-Market neighborhood.
The Piazza and C'era Una Volta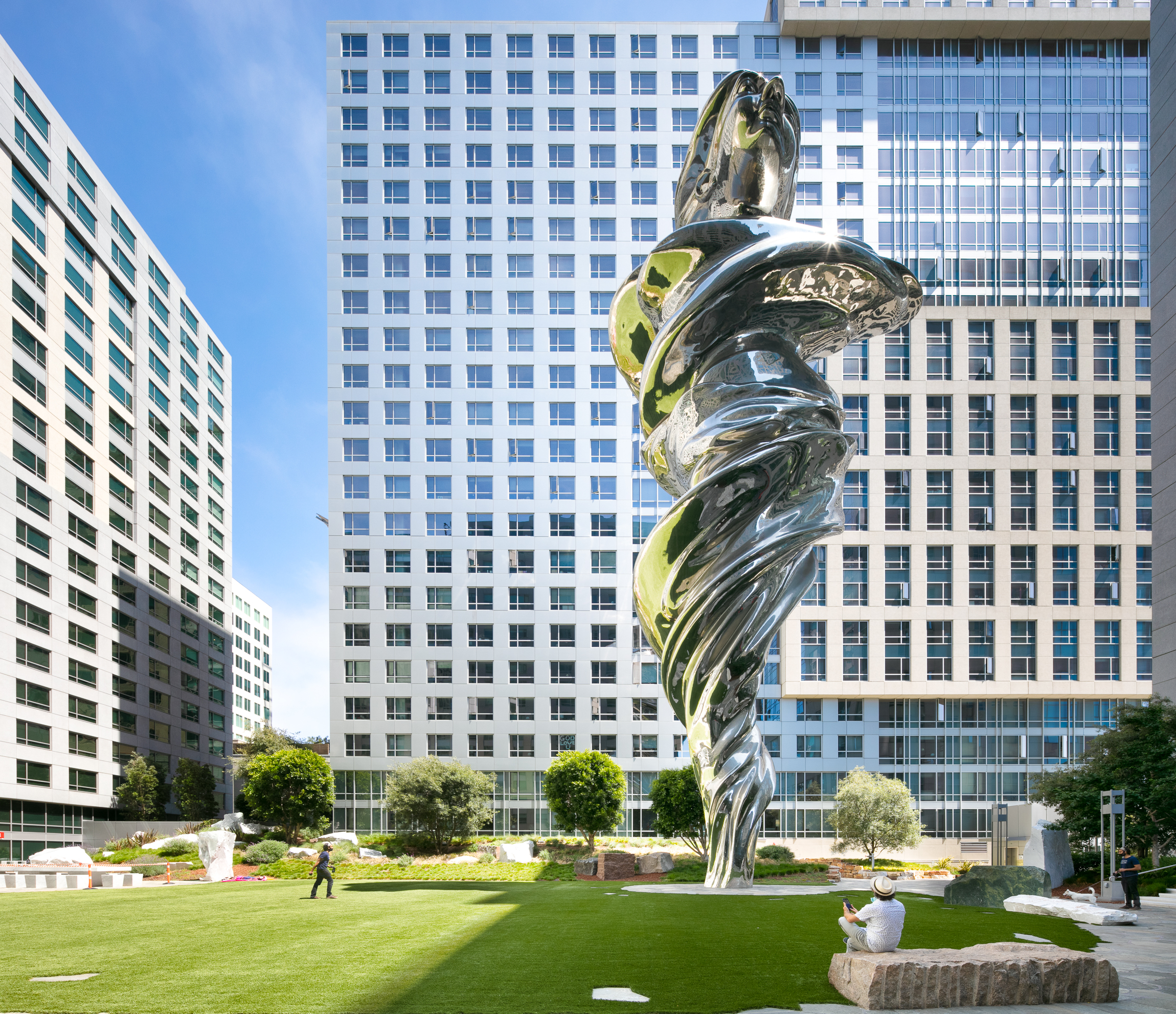 Trinity Place's four high-rise buildings form a quadrangle around a one-acre central piazza. The piazza creates a beautiful and inspiring urban oasis devoted to art and a welcoming new passageway between Market and Mission streets. Designed by renowned artist Lawrence Argent, C'era Una Volta presents a unique collection of contemporary art inspired by European antiquities, including the famed Venus de Milo, a Greek sculpture that has been revered as an icon of beauty for two millennia; carved sculptures from Hellenistic Greece through neo-classical times, mosaics from Pompeii; and Italy's legendary Pietrasanta marble quarries. Argent describes the collection as creating an experience that is an amalgam of the whole, multiple points of discovery that come alive as one walks through the piazza, revealing more with each visit. Venus, artist Lawrence Argent's interpretation of the classic Venus de Milo sculpture, reigns as the centerpiece of C'era Una Volta. Argent's Venus stands 92 feet tall, slightly shorter than the Statue of Liberty's 111.5 feet measured from heel to crown, and 35 feet wide at the shoulders. Graceful and expressive, the statue is made of stainless steel sections welded together by many skilled artisans using a highly specialized technique that renders all seams undetectable.
Mosaic & Bollards: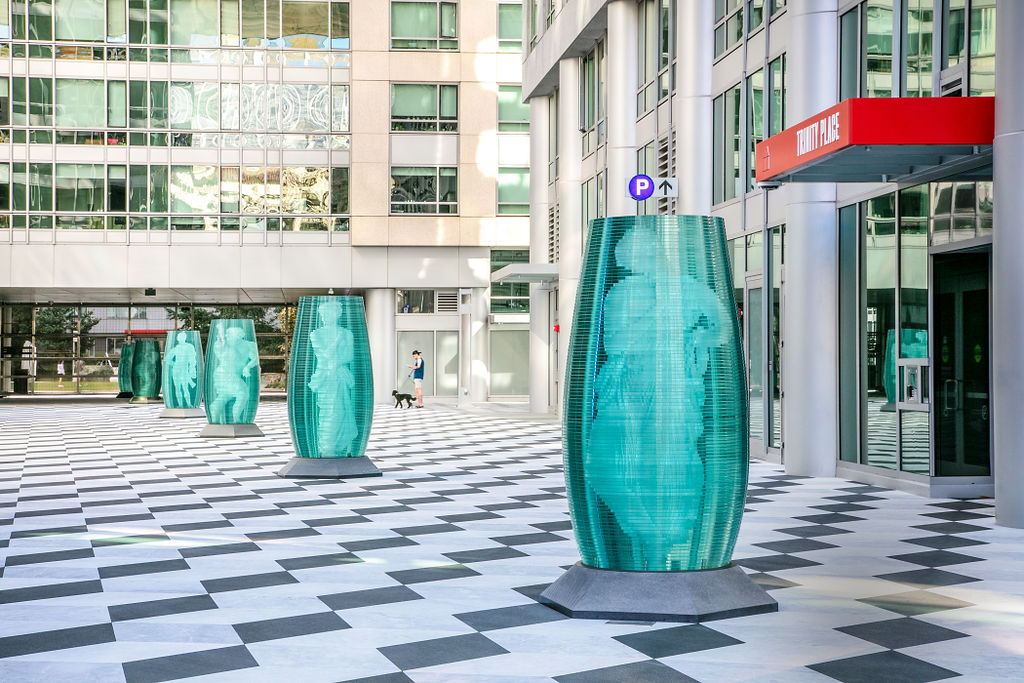 A mosaic path, artfully rendered to reveal a new view with every step, extends into the sidewalk on Market Street, inviting pedestrians into the piazza. The mosaic path was inspired by a Pompeiian pattern and transformed with digital imaging. Custom-designed seven-foot glass bollards with illuminated hollow centers serve as dramatic showcases for sculptures within the glass. The decorative bollards, which weigh 8,000 pounds each, are located along the mosaic path connecting Market Street to Mission Street.
Seven Carved Boulders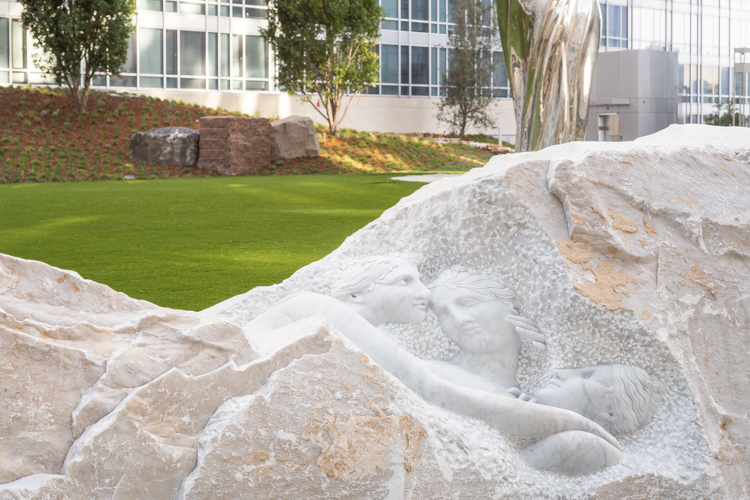 Artist Lawrence Argent designed a modern interpretation of icons of classical beauty with seven individual gigantic boulders revealing interpretive carvings of these forms. Buried beneath the surface of the blocks are these carvings, which evoke images of buried geologic antiquities carefully unearthed at an excavation site.
The Table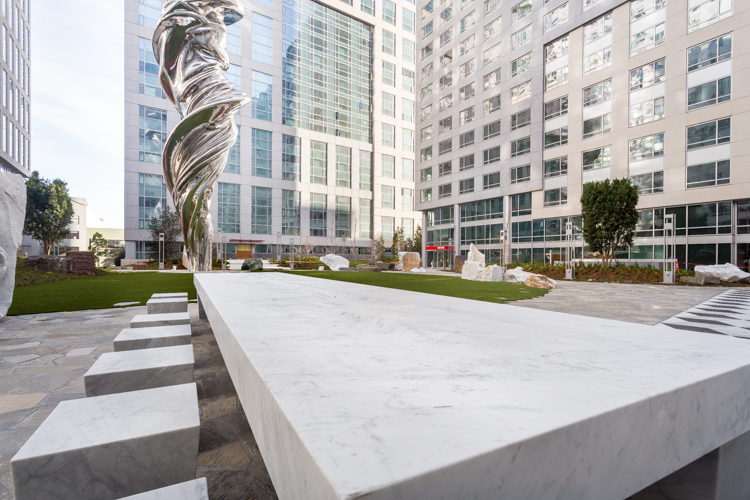 A 20-seat Carrara marble table encourages people to gather for lunch or to meet friends in the lively piazza. To give the table "movement" and create the sense of gathering at a friend's home, Argent added a "ripple" along the marble tabletop, creating the impression of a large tablecloth naturally creased in the center.
The Gates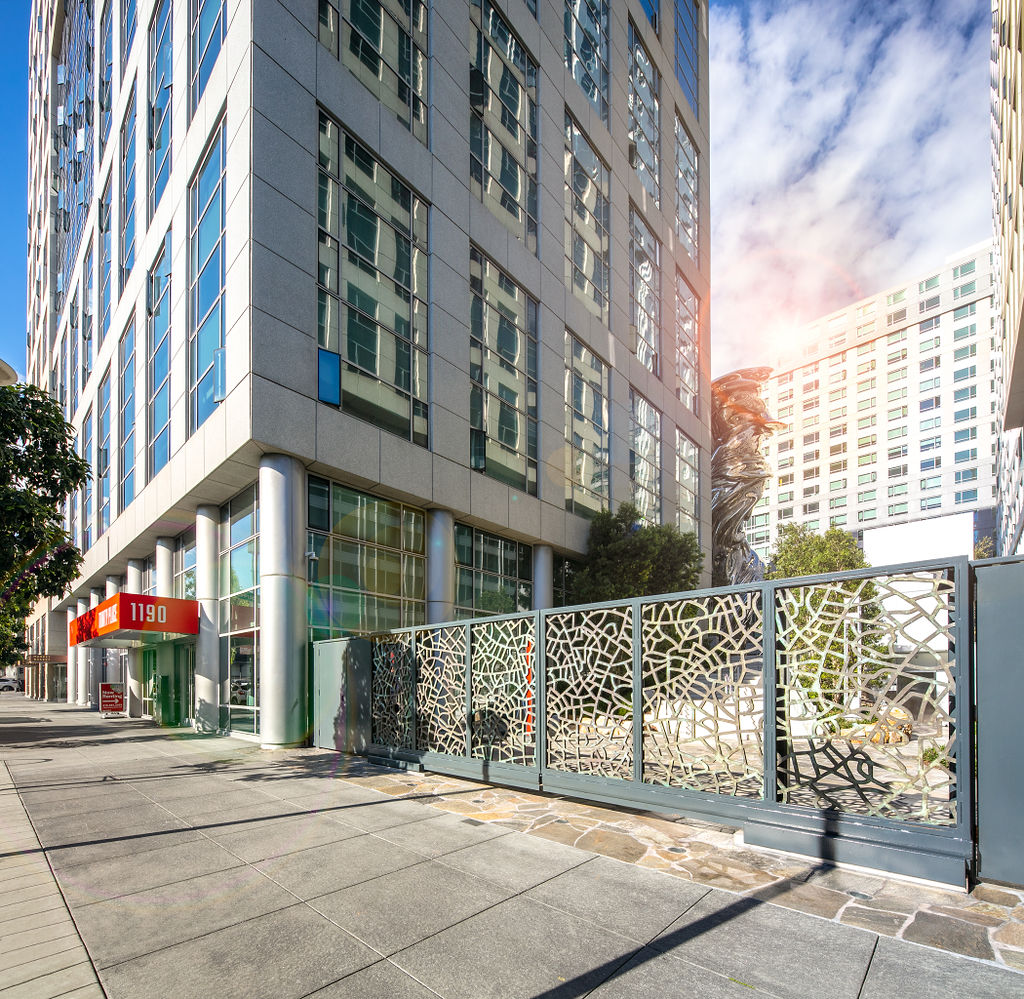 The gates between Phases 1 and 2 of Trinity Place, facing Mission street, form an enchantingly intricate bronze pattern inspired by the ancient street map of Genoa, Italy. The design honors the Genovese region, the ancestral home of the Sangiacomo family.
Artist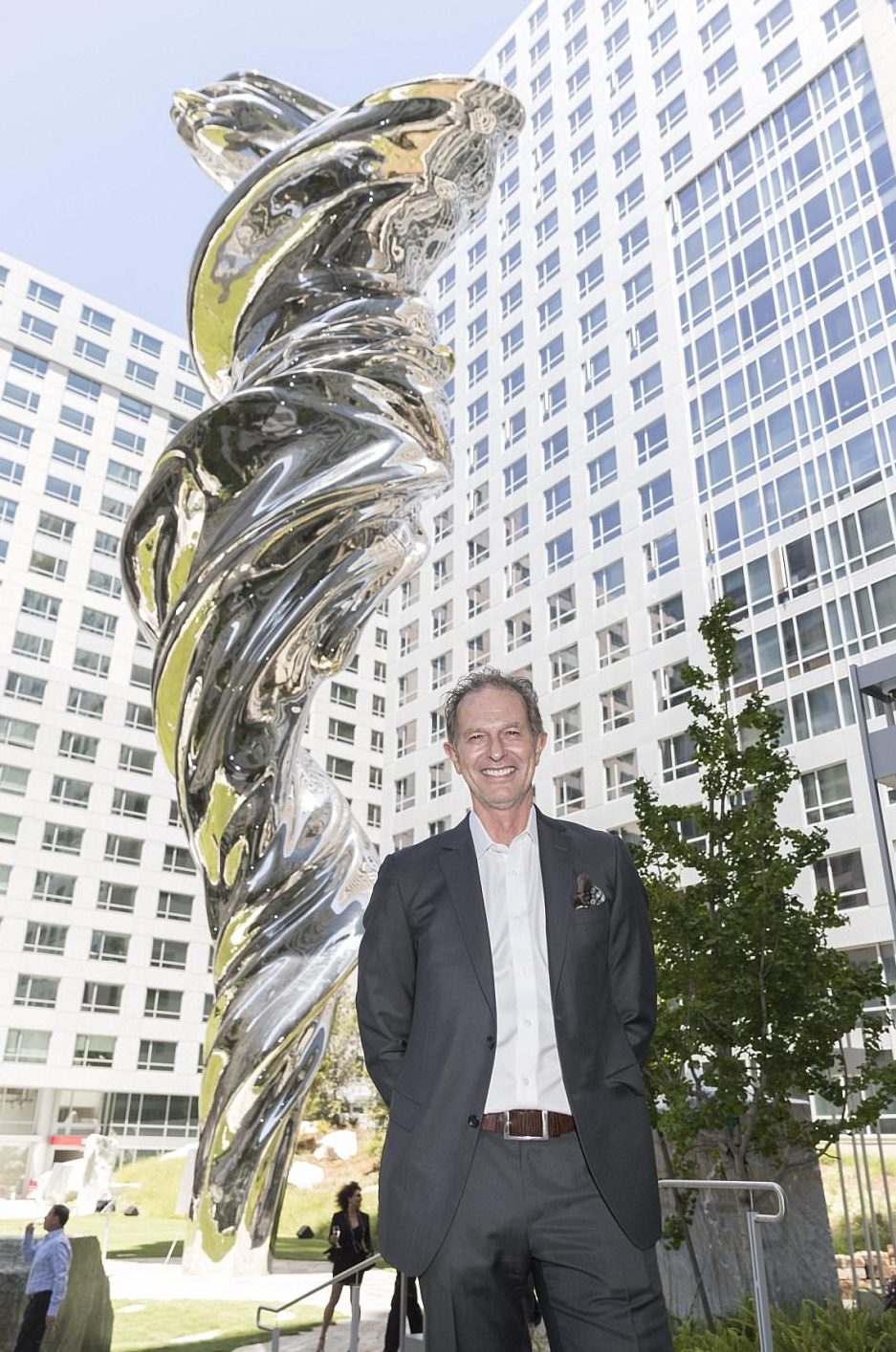 Lawrence Argent (1957 – 2017) – Internationally acclaimed artist Lawrence Argent is known for large, fanciful, and diverse works, including the 40-foot Blue Bear at the Denver Convention Center, a 220,000-pound granite sculpture comprised of carved lips from the community, "Pieces Together" outside the Martin Luther King, Jr. Hospital in Los Angeles, and Bunny Foo Foo, a 35-foot stainless steel rabbit in a full leap that greets visitors at Hall Winery in St. Helena. He was also the Head of Sculpture at the School of Art and Art History at The University of Denver in Colorado.
Victoria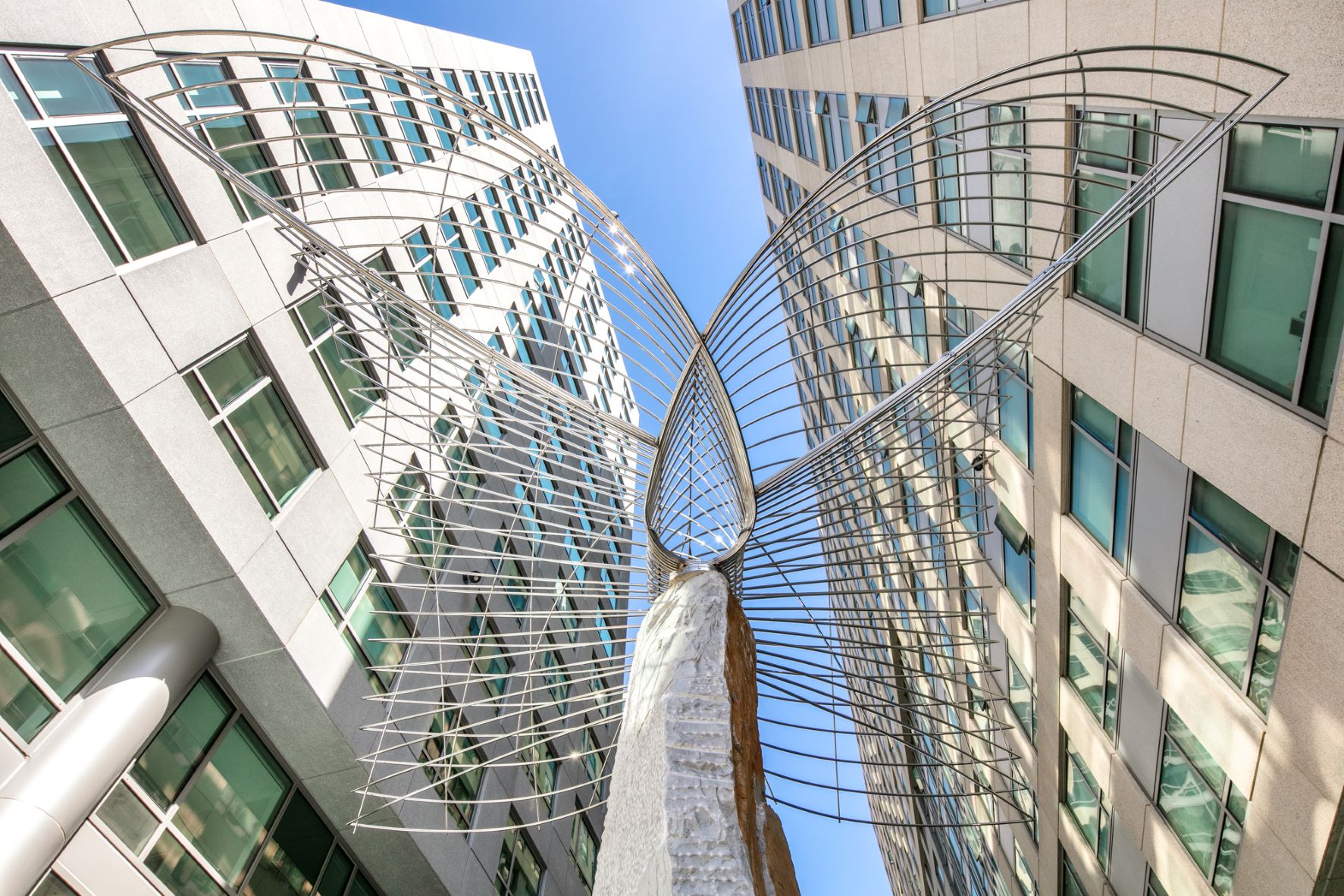 Victoria, sculpted by Richard Deutsch, was inspired by the ancient Greek sculpture, The Winged Victory of Samothrace. Also called the Nike of Samothrace. this 2nd-century BC marble sculpture pays tribute to the Greek goddess Nike (Victory). Found on the island of Samothrace, sculptures like this were placed at entryways to seaports, city centers, and temple complexes meant to welcome visitors and residents while symbolically representing wellbeing, justice, battle victory, good fortune, strength, and peace. These attributes of ancient Greek society were reflected and celebrated as a beautiful winged female goddess to be worshipped and praised.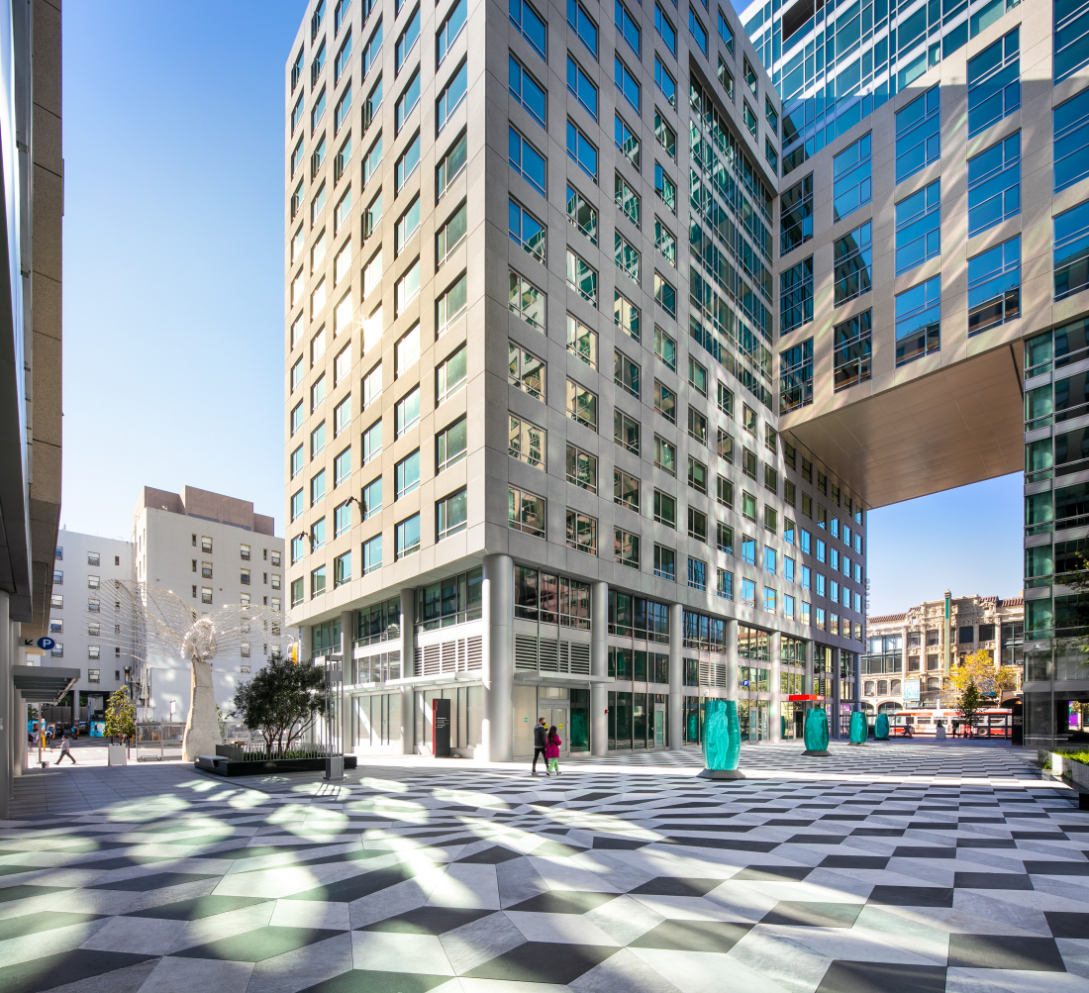 The Winged Victory of Samothrace was one of the earliest of these incarnations. Deutsch's goal with Victoria was to punctuate Trinity's Eighth Street entry by following this ancient tradition of "welcoming" with an angelic winged figure. Victoria is made of a high-grade 316L stainless steel and white Carrara marble. The marble elements of the sculpture were fabricated in Pietrasanta, Italy and the block was quarried in one 50,000 lb piece.
Visit us at Trinity Place today to see these gorgeous displays of public art in all their glory!
Back to Blog