Renovated San Francisco Apartments
May 3, 2019
San Francisco's classic architecture set it apart as one of the most uniquely beautiful cities in the world.  The colorful Victorian homes and miraculously designed exteriors will never go out of style and San Franciscans work tirelessly to preserve their beautiful homes. Trinity has long been known in the city of San Francisco as a reliable provider of high-quality apartments for an incredible value.  Now in addition to our classically-styled homes, Trinity is also renovating apartments with modern and timelessly elegant designs carefully crafted by Figur3 Design in Toronto.   Complete with hardwood floors, marble counters, and stylish furniture, Trinity apartments are among the elite tier of newly renovated apartments in The City.   Whether you're looking to design your dream home or prefer a fully-furnished unit, we have availability across San Francisco.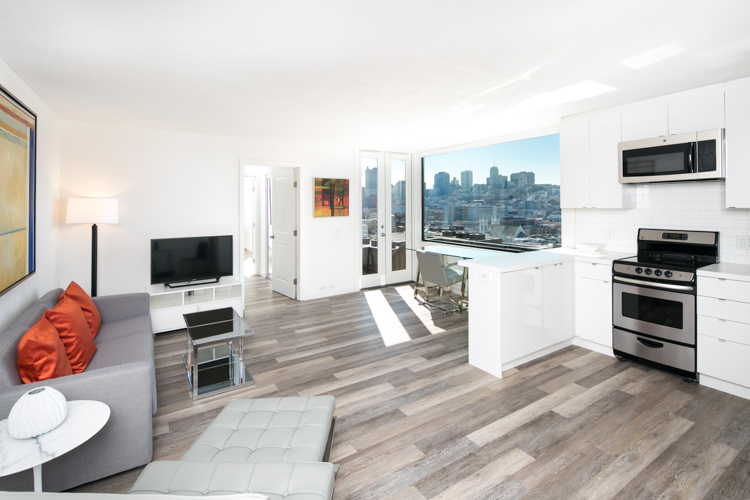 Why move into an outdated apartment when you can be living in a fresh unit with state-of-the-art design?  San Francisco is a city of cutting-edge innovation and your home should be no different.  Our fully-furnished units even come with silverware, plates, cookware, furniture, decorations, and much more.  Just pack your suitcase full of clothes and you're ready to move in today.  Trinity makes renting THAT easy.  Professionally managed and continuing to grow for 70 years, Trinity apartments have stood the test of time and will continue to provide reliable and desirable housing to The City by The Bay.  Trinity is the premiere provider of newly renovated San Francisco Apartments: Let's take a look at some of the finest units in The City.
As you can see from the pictures below, our apartments at 1000 Chestnut boast some of the best views in The City.  This stunning high rise next door to Lombard Street and Aquatic Park offers renovated homes with crystal clear glimpses of the Bay Area all around you.  Wake up to the smell of coffee and The Golden Gate Bridge, Coit Tower, Alcatraz, and city skyline right out your window,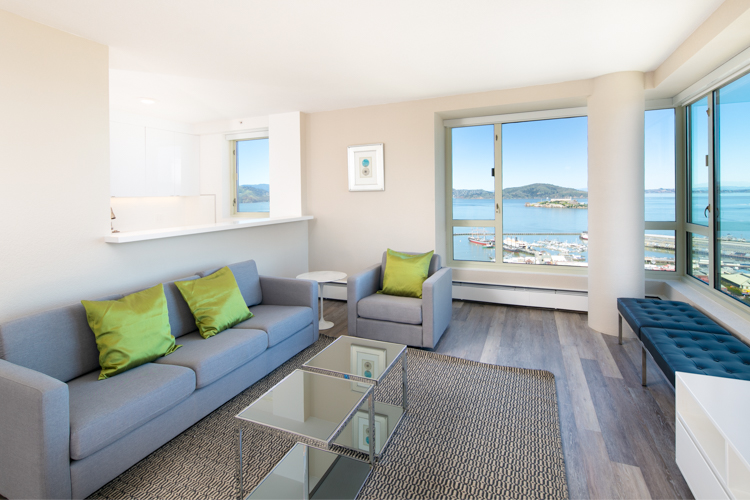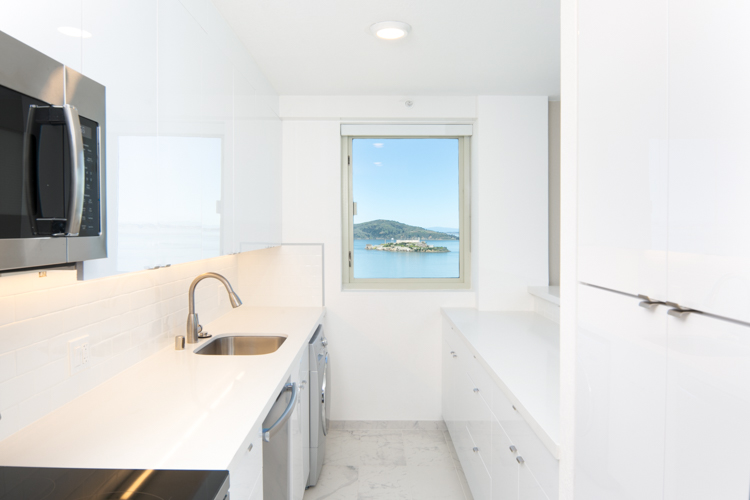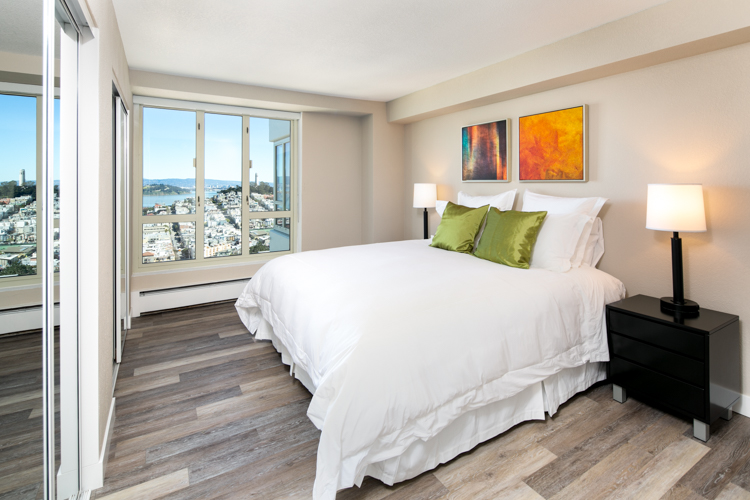 A few blocks from 1000 Chestnut lies another beautiful high rise in Crystal Tower.  Known as the only high-rise in North Beach, our apartments at 2140 Taylor Street offer similar sweeping bay views with close proximity to the piers and North Beach bars and restaurants.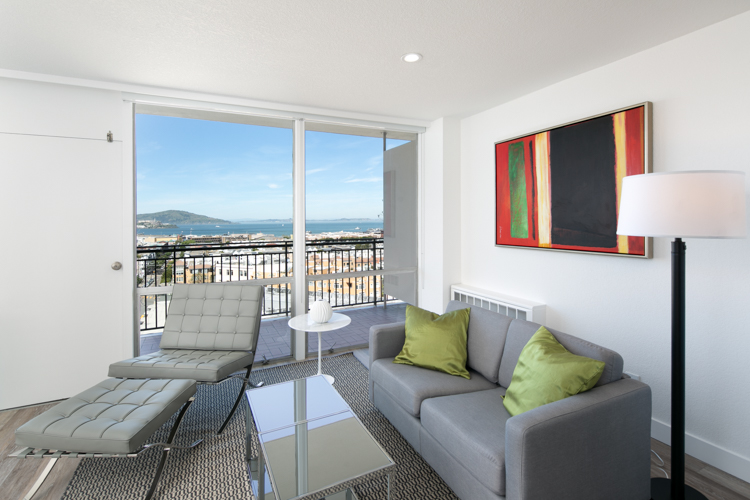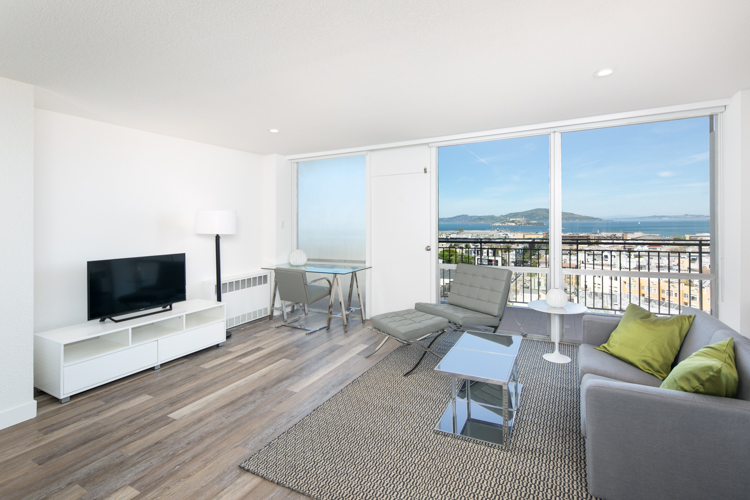 Is Pacific Heights your preferred place of residence? You're in luck because Trinity offers some of the best high-end apartment rentals in the area.  Whether you're looking for a studio or something with extra bedrooms, Trinity has great options for you to tour today!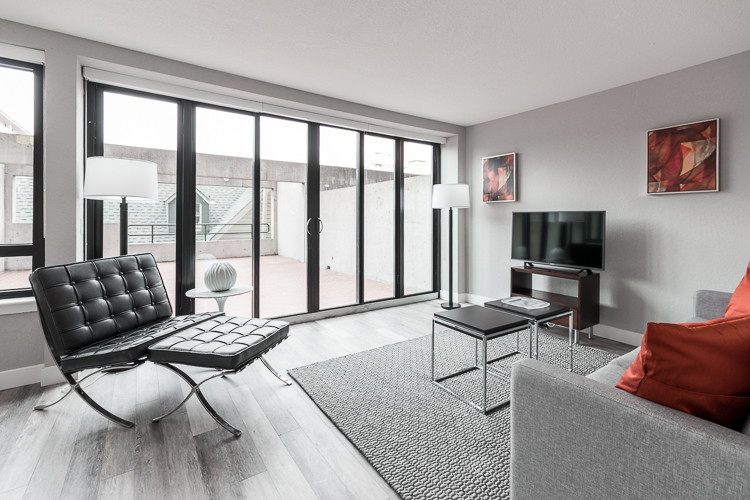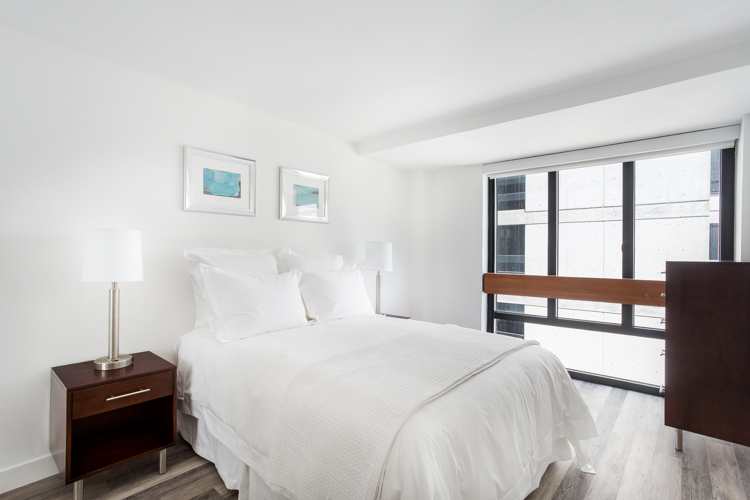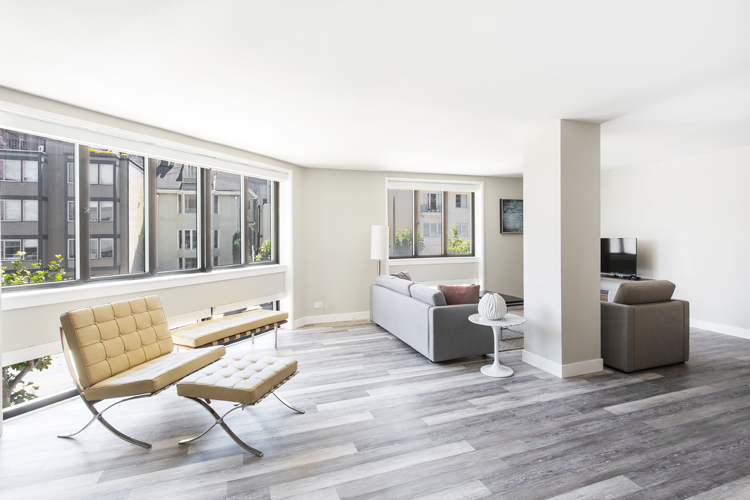 Our other beautifully furnished option in Pac Heights is located at 1890 Clay Street in the center of the city near Lafayette Park.  This wonderfully designed tower has some of the most jaw-dropping views of the downtown skyline straight from your bedroom.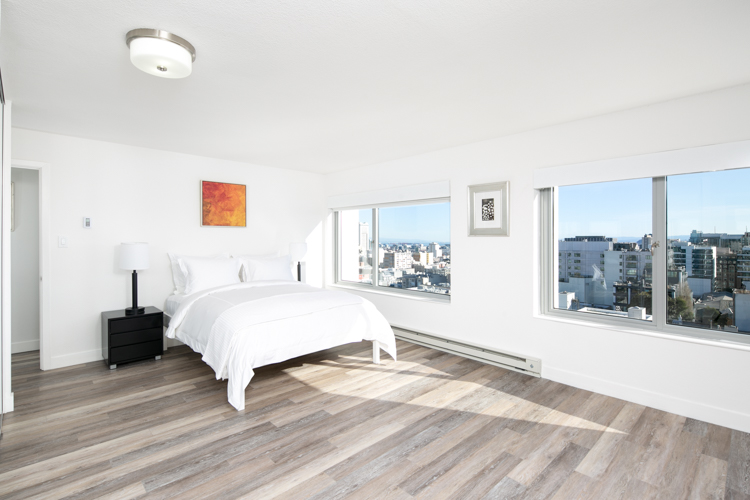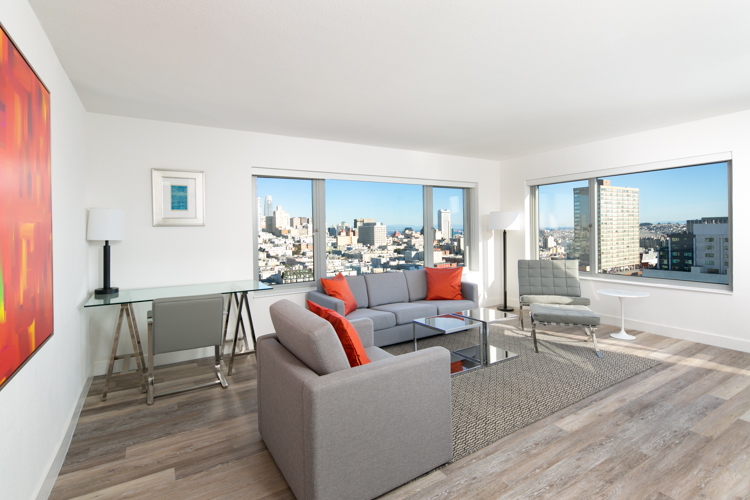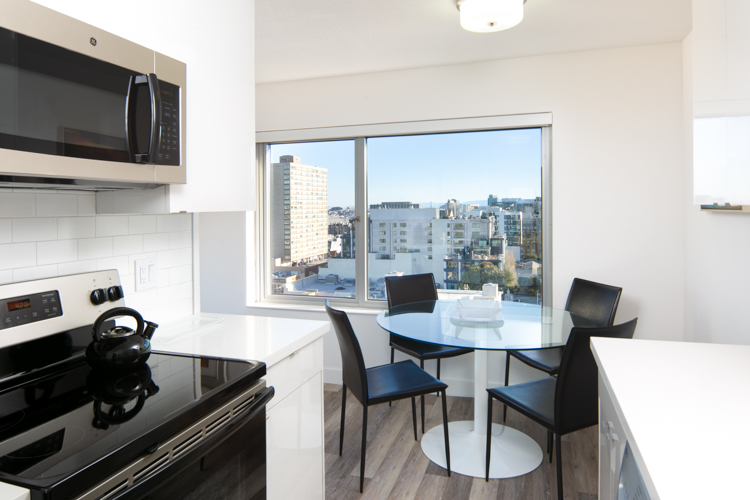 Looking for a modern home in one of the city's trendiest locations? Look no further than our 1550 Bay Apartments at Marina Cove.  This complex surrounds a lovely pool patio and is walking distance to the many local bars, restaurants, shopping, and recreation area along the Marina Green.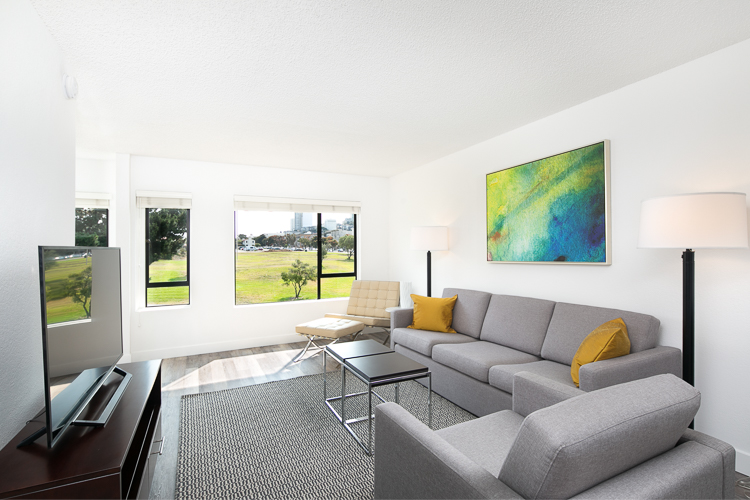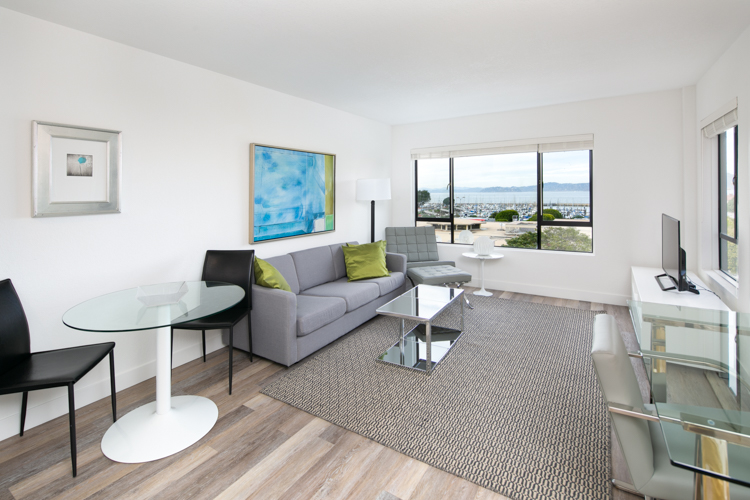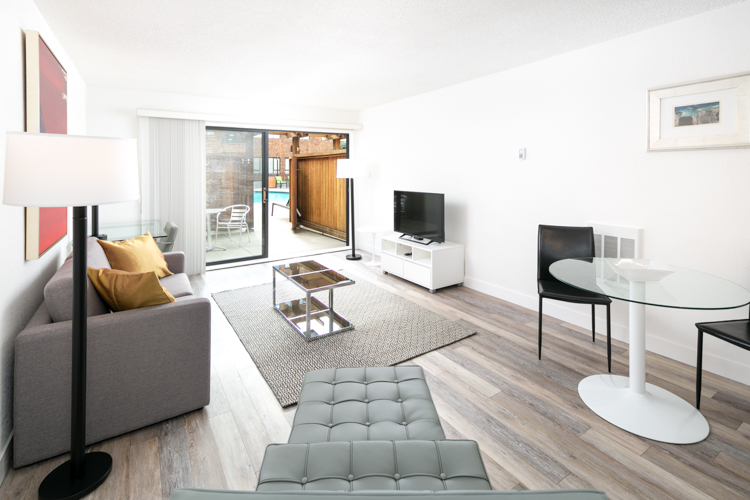 Looking to furnish your own beautifully-renovated home? Trinity also offers unfurnished units in a variety of locations across San Francisco.  This includes two buildings located at 2133 and 2130 Stockton Street.  These studio and 1 bedroom units are just a few blocks from Pier 39 and offer proximity to all the action in North Beach.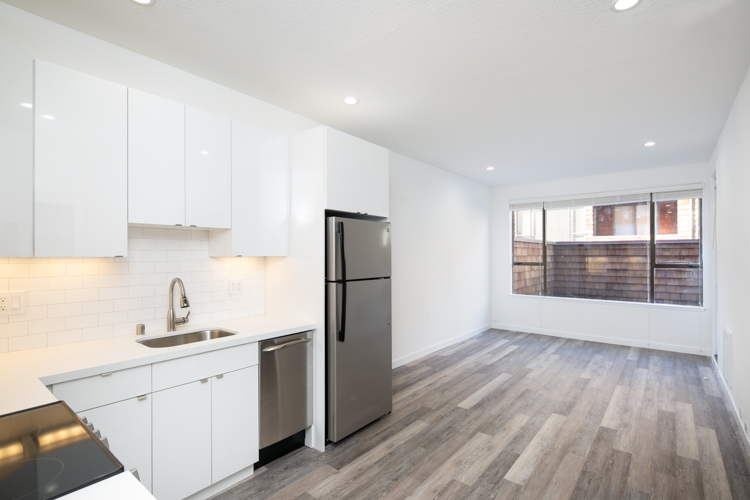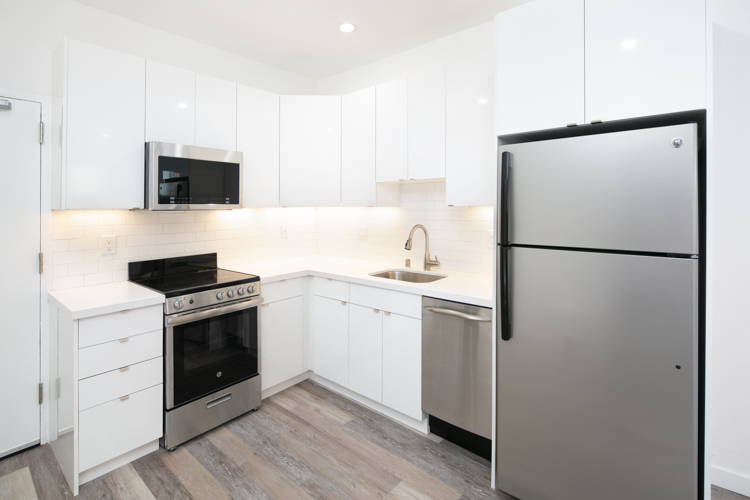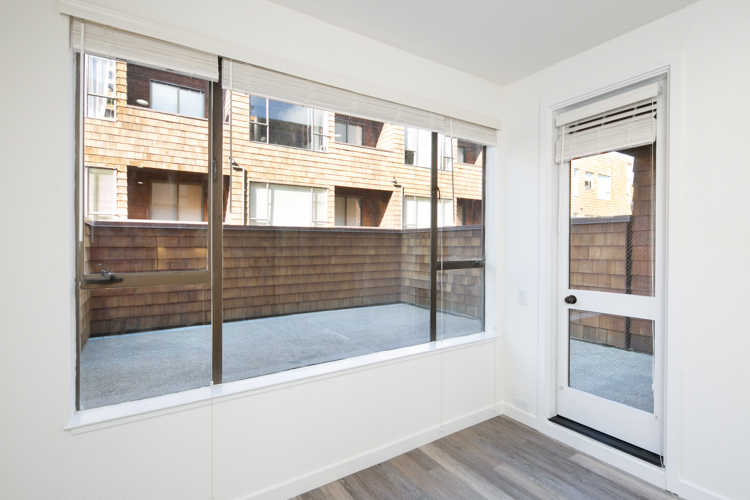 Want to wake up to the fresh sea air and a crystal clear view of Ocean Beach? Our apartments in Sutro Heights boast an unbelievable view with easy access to your home in a quaint neighborhood.  This Outer Richmond complex is within walking distance of The Sutro Baths, Ocean Beach, The Cliff House, Safeway, and much more!



Searching for a commuter's paradise? Our Trinity Towers apartments at 888 O'Farrell Street are close to downtown and are walking distance from the Civic Center BART and MUNI lines. If you're looking for an easy trip to work, this is certainly the place for you.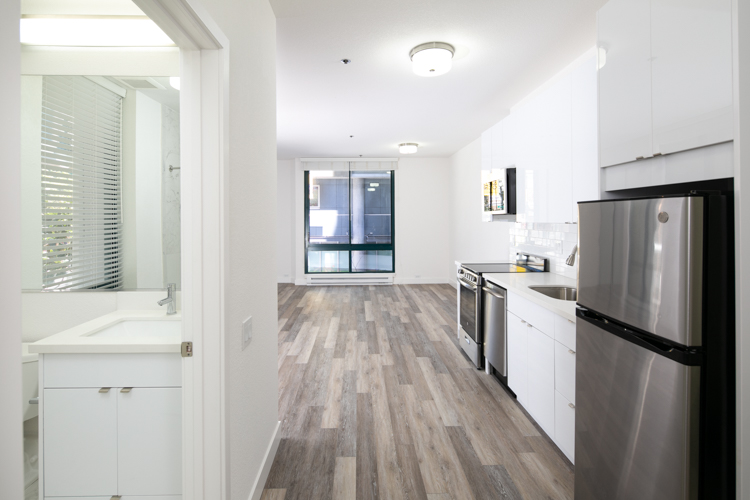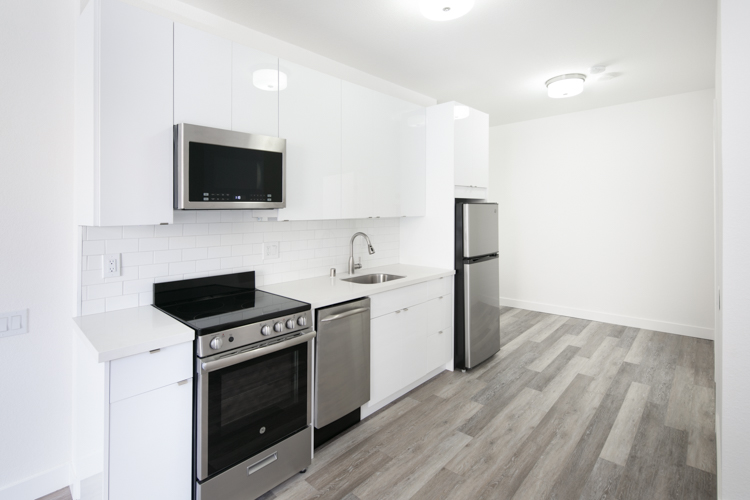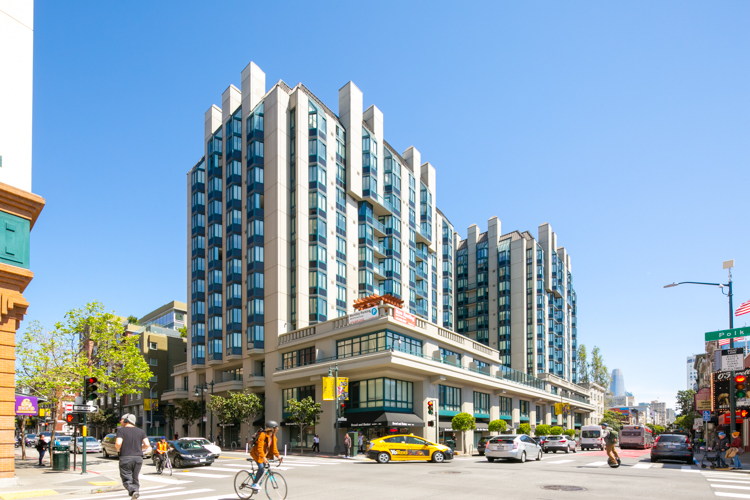 Back to Blog