52pick-up.com/work/trinity
Trinity SF Career Fair
October 11, 2018
Trinity SF Career Fair Wednesdays in November 11am-1pm @ 33 8th St., San Francisco, CA 94103
Do you love San Francisco? Do you have a passion for helping its residents live a happy life? So do we.  At Trinity, we attempt to make the renting process as easy as possible for our customers. Currently, our team is growing and we are looking to add additional Property Managers, Assistant Property Managers, Leasing Agents, and Maintenance Technicians.  Shown below are details for our career fair held each Wednesday this November in the lobby of our 33 8th property at Trinity Place.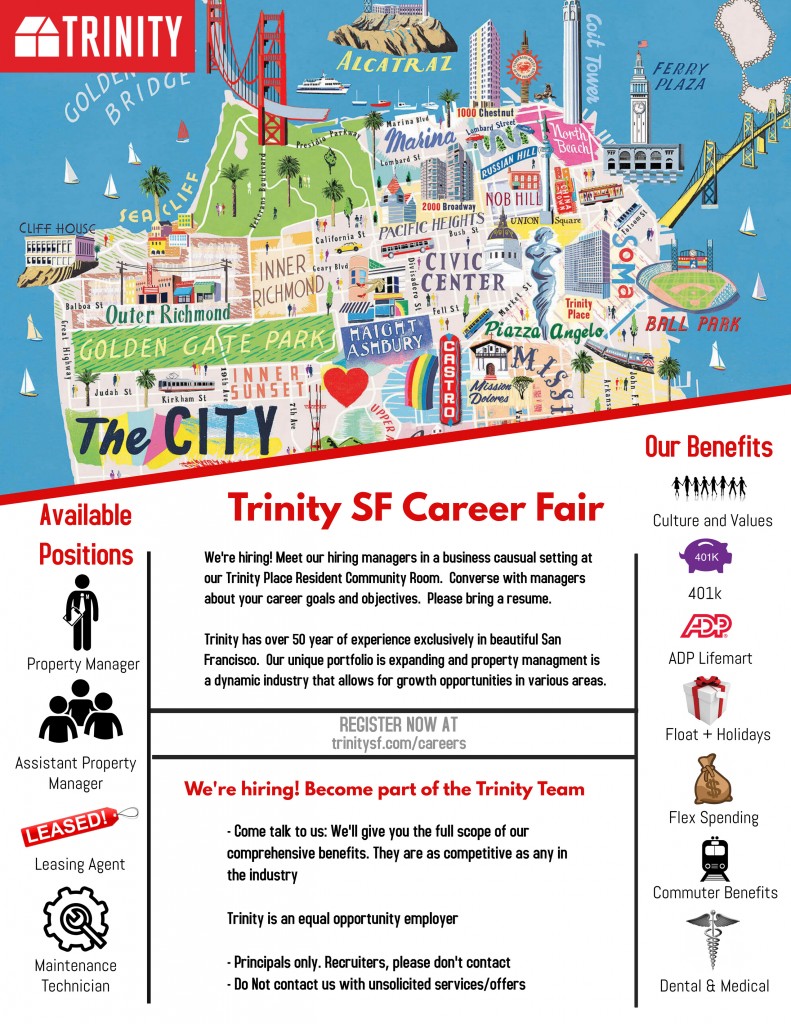 Trinity was founded in 1949 with a singular purpose—to become The City's premier apartment provider. Nearly seven decades later, Trinity stands "best-in-class" with apartments that offer the best locations, prices and amenities. Our apartments feature quality finishes, picture windows, high ceilings, angled walls, skylights, fireplaces, and soundproofing.  Timeless and tasteful, our classic architectural design aesthetic sets the tone for our brand. Refined, uncluttered and immune to fleeting trends, we sum up our style in two words: understated elegance.
Trinity Place, a high-rise development on the corner of 8th and Market, is the culmination of our legacy.  This 1900 unit apartment development encompasses four distinctive high-rise buildings. Phases 1, 2, and 3 are now complete.   Phase 4 is currently in progress and figures to be an architectural masterpiece.  A true labor of love, this project has been 35 years in the making.  The center of Trinity Place features Piazza Angelo, home to San Francisco's largest statue.  Even if you don't find an opportunity that suits you, viewing this spectacular piece of artwork is worth the trip.
Investments – We ensure our team can stay healthy and manage the demands of their work and personal lives. Along with paid vacation and sick leave we offer a commuter transit savings program to help you save money on your commute, along with a 401(k) Retirement Plan.
Inclusion – We're an equal opportunity workplace and an employer. Our inclusiveness starts at home, inside Trinity, where hiring is based on merit and character to help us build the best and brightest team.
Benefits – We offer a comprehensive benefits package for employees and their eligible dependents, including children, spouses and domestic partners. These benefits include medical, dental and vision. We also offer optional supplemental plans for life, accident, disability, hospitalization and cancer. You'll also have a flexible spending account for health and dependent care.
Pride – We're an innovative, imaginative and courageous team that enjoys partnering with like-minded people. Angelo's strong belief in customer care ensures our in-house team is responsive and accountable. As Angelo puts it: "If you're going to do it, always do it right."
Love – Trinity has always had a deep love affair with San Francisco. The Art. People. Culture. Food. Architecture. What's not to love? From our founder Angelo himself: "When I look out on the City of San Francisco, I see what everyone sees. I see a special, unique city. Like so many, I love San Francisco and I like to think we've had a strong hand helping many others get the chance to live here and love here as well."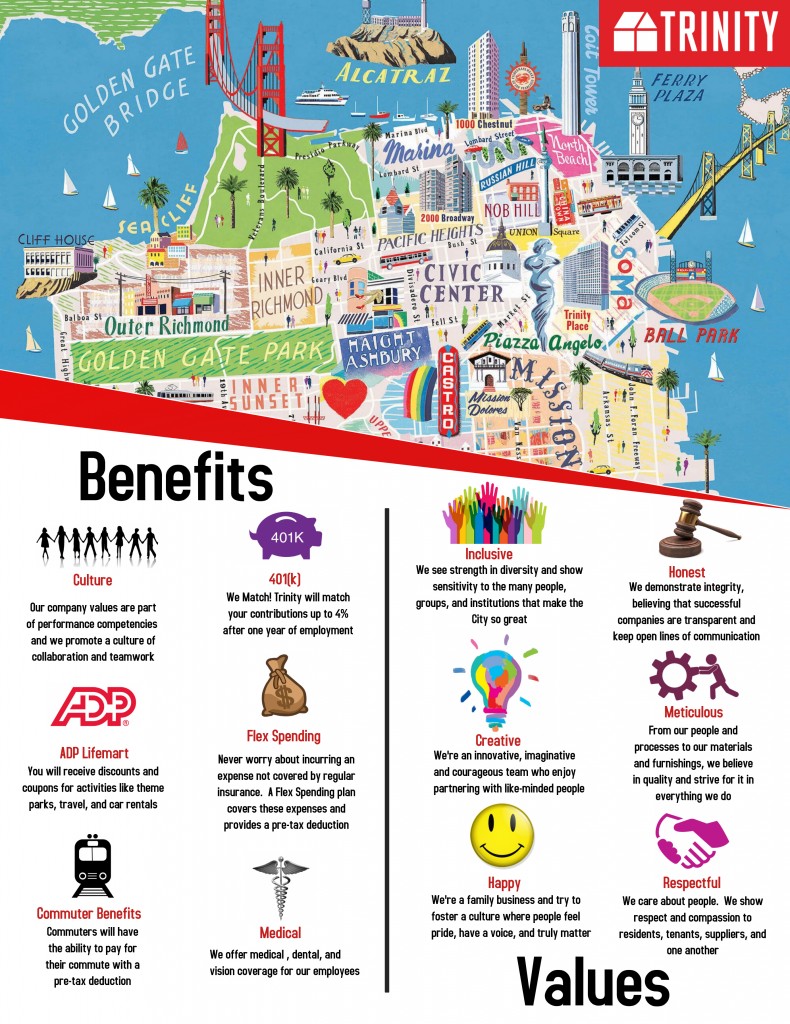 Back to Blog