The Best Parks in San Francisco
August 27, 2019
San Francisco's countless urban parks help to make it one of the most beautiful and desirable cities to call home. While Mission Dolores and Golden Gate Park draw national attention, some of the best parks in San Francisco are harder to find. Let's explore The City to learn what makes each of these unique parks so great!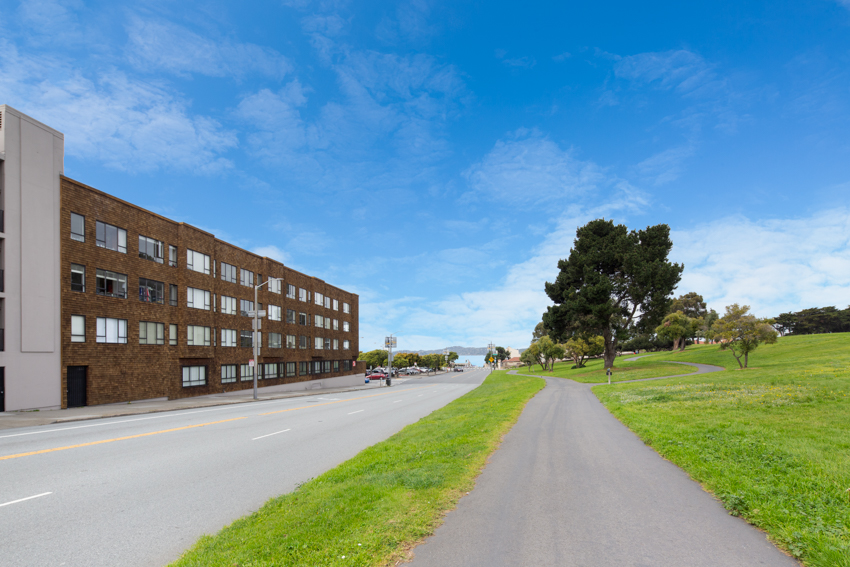 This former Army coastal defense site now serves as one of the premier gathering places in San Francisco with arts, music, culture, and food coming together in a scenic setting. Alternating art galleries are available weekly with musicians and food trucks offering up their local flavors. However, Fort Mason sees its most prominent action on warm weekend afternoons. The grassy park adjacent to the Marina Cove Apartments with sweeping views of the Golden Gate Bridge and Marina District is known as the "Great Meadow." This hilltop landscape has an excellent vantage point of ships entering and exiting the bay and the sun setting behind the Golden Gate. Fort Mason consistently attracts locals and tourists each weekend to enjoy food, drinks, and games in the sunshine.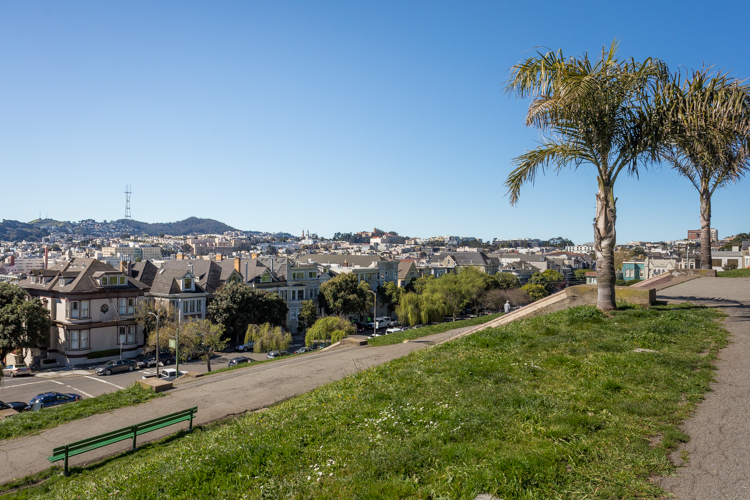 One wonderfully scenic option in Pacific Heights is the steeply tiered Alta Plaza Park. This hillside park claims to offer "San Francisco's Perfect View" due to the plaza's breathtaking glimpse at the various landmarks around The City. Nestled in the center of Pac Heights between Jackson and Clay Street, Alta Plaza is a short walk from all the tremendous dining and shopping opportunities on Fillmore Street. This peaceful and coveted community provides wonderful recreational spaces, beautiful homes, and an easy commute downtown.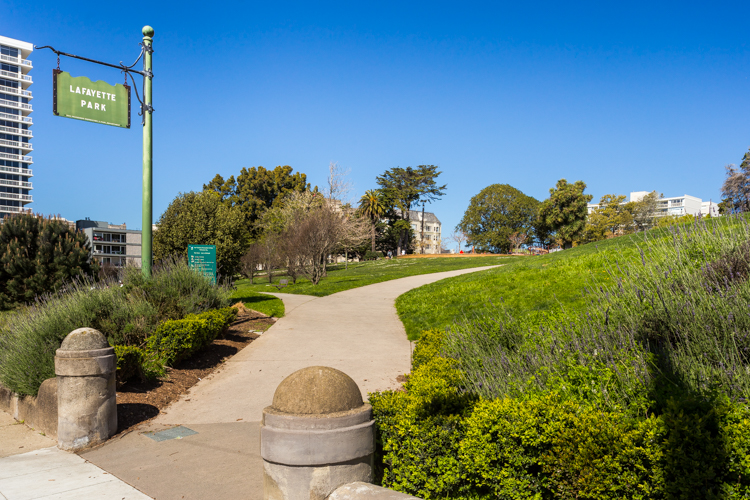 Another fantastic Pacific Heights spot to visit is the similar Lafayette Park just four blocks east of Alta Plaza also between Jackson and Clay. The residents of the area certainly have no shortage of open spaces to enjoy with friends, family, and pets of course! This family-friendly space includes an off-leash dog area, playgrounds, tennis courts, and a picnic area. Residents of the nearby Clay Park Tower and 2000 Broadway apartments certainly benefit from living so close to such a lovely public space!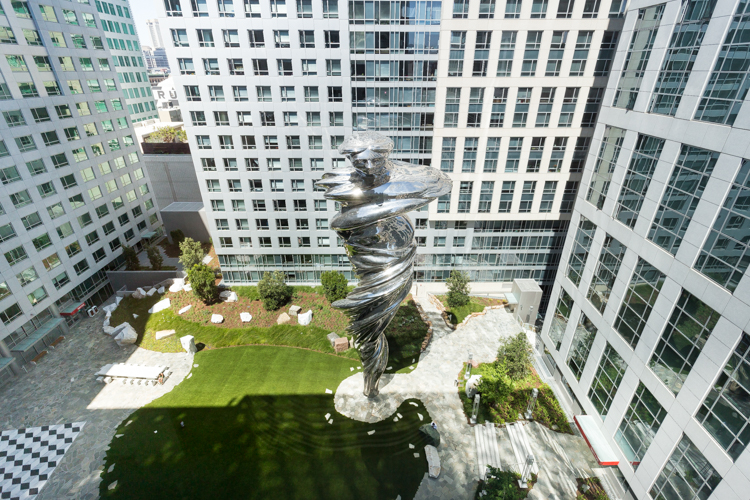 San Francisco's newest public oasis is placed in the center of the 1188 Mission, 1190 Mission, and 33 8th apartments in SoMa. The sparkling courtyard is home to the largest statue in San Francisco standing at 92 feet. This shining piece of artistry is modeled after Venus de Milo and is just one of many beautiful pieces of art to be be found in the piazza at Trinity Place. Marble and granite sculptures line the walkways and peaceful seating areas are available for the public to enjoy their lunch. A popular option on hot days, Piazza Angelo has plenty of shade for those looking to find a comfortable resting place away from the sun.
View this post on Instagram
An Instagram aficionado's favorite park is likely this small hidden gem atop Russian Hill. Although there is not much to do here, this is the perfect place to plan your next photoshoot. Breathtaking views allow you to enjoy an up-close glimpse at the downtown skyline and Bay Bridge extending out of The City. Ina Coolbrith Park is the ideal spot to watch the sunrise on a beautiful day in San Francisco.
View this post on Instagram
Another fashionable but modest Russian Hill park is Fay Park on Chestnut Street just one block from the luxurious 1000 Chestnut apartments. This quaint garden has three terraces complete with connecting stairs and ramps lined with hedges, planters, and stone balustrades leading to wooden gazebos with San Francisco Bay views. Due to its scenic landscape, Fay Park has become a trendy location for weddings despite its small quarter-acre size.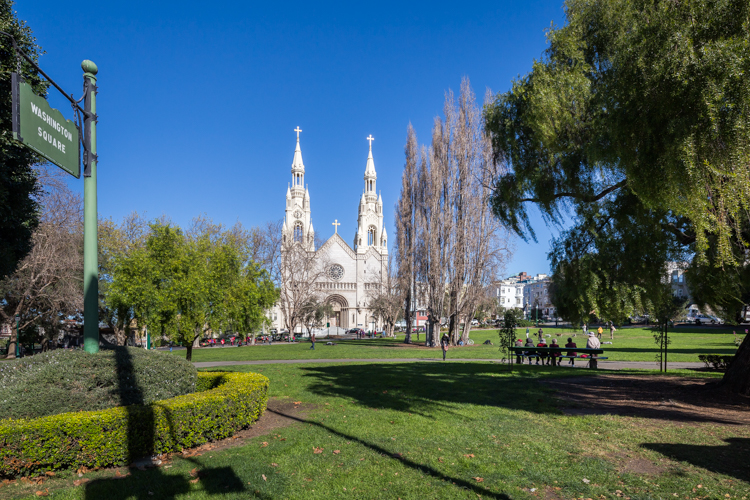 If you're looking for a slice of pizza and a place to picnic, Washington Square has you covered. Positioned in North Beach's Italian neighborhood, there is a surplus of fantastic dining options. While the area has plenty of entertainment options, this lovely park is one of the only free ones! Every day is a great day to grab lunch at Tony's or Original Joe's at the corner of Stockton and Union Street in Washington Square!
View this post on Instagram
Just up a few blocks from Washington Square on Telegraph Hill lies Pioneer Park. This hilltop lookout point is the site of the famed Coit Tower, one of San Francisco's most well-known landmarks. Pioneer Park also showcases a fantastic vantage point of the San Francisco Bay, both bridges, Alcatraz, and surrounding Bay Area. Tourists often venture over to Telegraph Hill to experience Coit Tower, but many miss some of the great hidden features located nearby. Locals, such as the ones living at 350 Union, have become familiar with the colorful wild parrots that call the area home.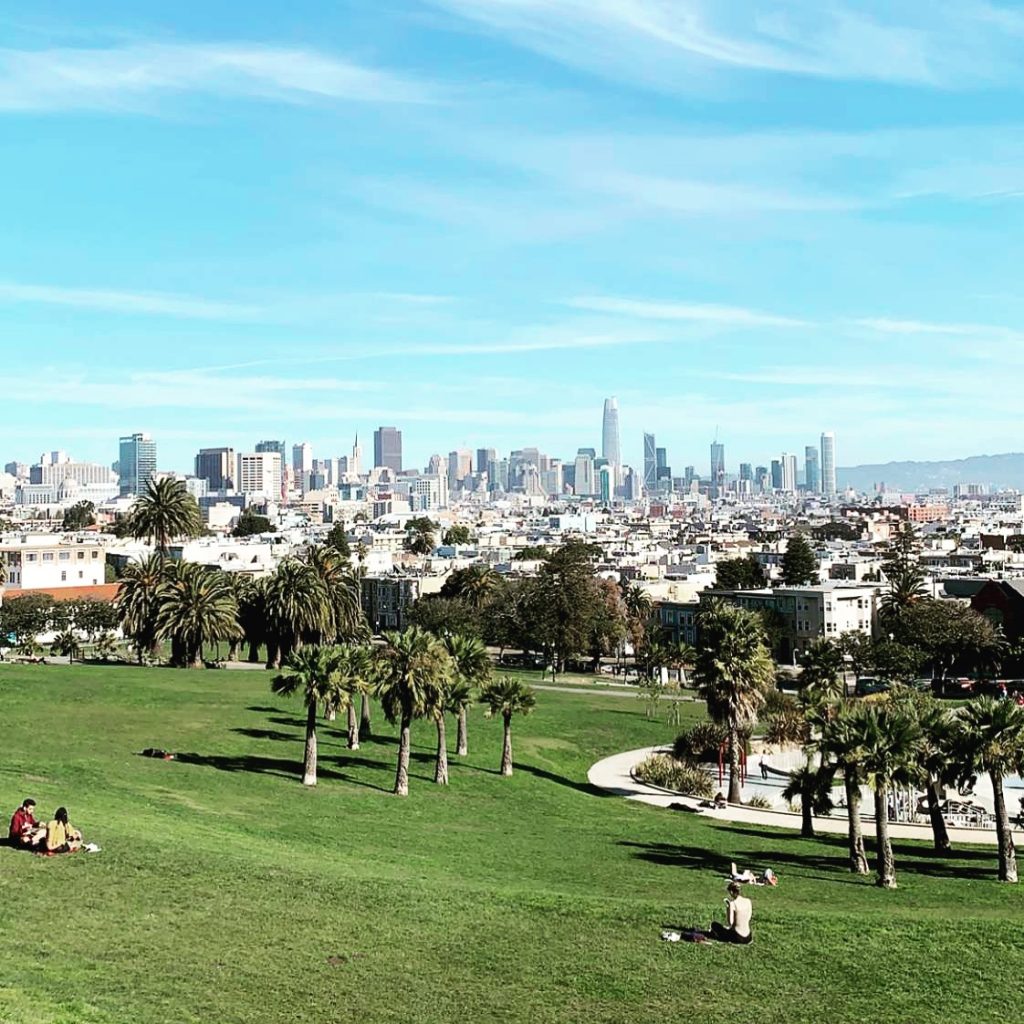 Undoubtedly one of the most popular parks in San Francisco, Mission Dolores attracts thousands of visitors to its grassy confines weekly. This large park becomes filled with people on weekends looking to enjoy stunning views of the downtown skyline in one of San Francisco's warmest neighborhoods. Grab lunch from one of the many local restaurants, some cold drinks, and bring your friends to one of the most lively urban park atmospheres around. Whether you're a resident to the Mission/Castro community or traveling to The City from afar, Mission Dolores Park is a must-visit!
View this post on Instagram

Positioned in the southwest corner of The Presidio near the golf course, Mountain Lake Park is a beautiful spot in the Inner Richmond to kick back and relax. Complete with a full playground, sports courts, and dog areas, this expansive park will give you plenty of space to enjoy your favorite activities. You can also explore the Mountain Lake Trail which circles the entirety of the scenic lake.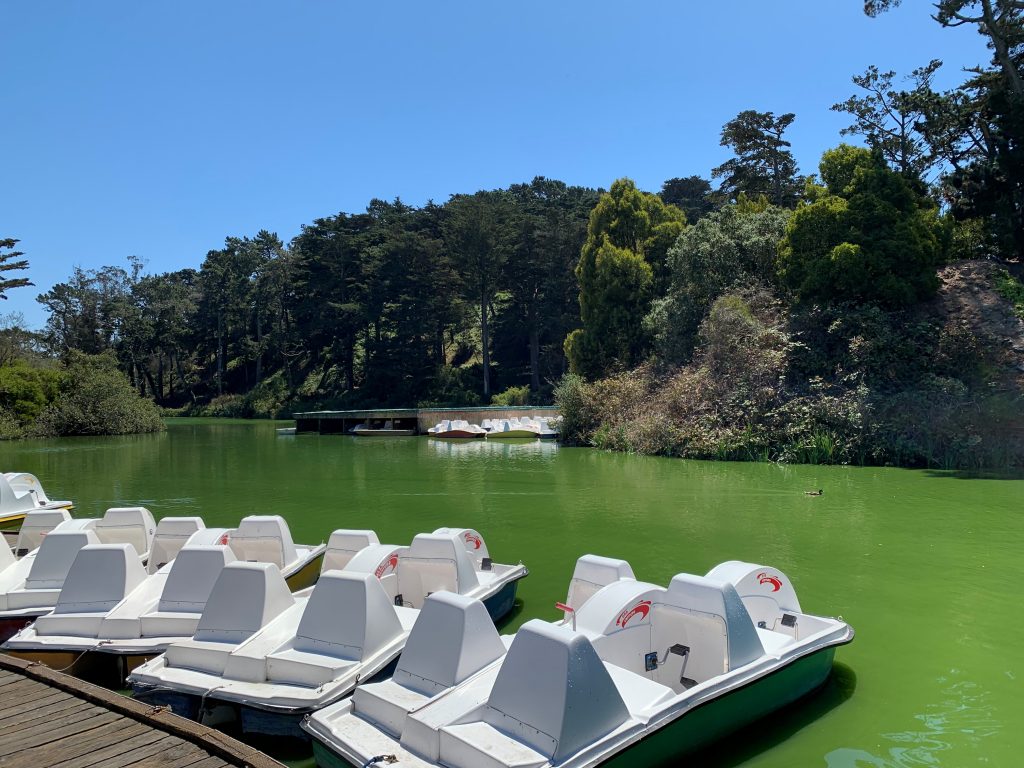 Known as one of the largest and most beloved parks in the world, Golden Gate Park easily takes the cake as the "Best Park in San Francisco," Whether you enjoy sports, science, art, architecture, festivals, nature, or really anything outdoorsy, Golden Gate Park has it. Between Kezar Stadium, California Academy of Sciences, the SF Botanical Garden, and a multitude of lakes, the options are endless. This massive park extends all the way to Ocean Beach and borders both The Sunset and The Richmond Districts in the outer avenues of San Francisco. If you're looking to cover all the activities available at Golden Gate Park, you will need more than a  few days!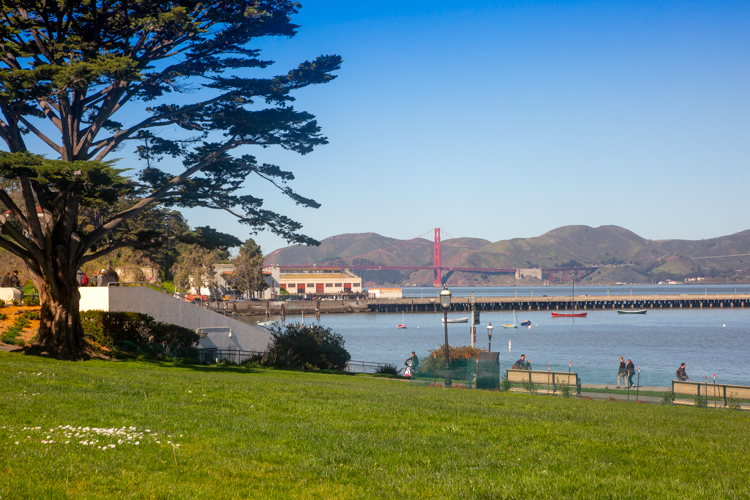 San Francisco's Aquatic Park and Maritime National Historical Park are located between Van Ness and Hyde St. next to Ghirardelli Square. The wonderful Aquatic Cove features calm waters for swimmers, and nearby bleachers allow spectators to view all the action in the water. Next door to the Hyde Street Pier, many historic boats and shipping vessels are docked nearby for your viewing pleasure. This bustling area filled with bars and restaurants is at the base of Russian Hill just a short walk from the available 1000 Chestnut Apartments.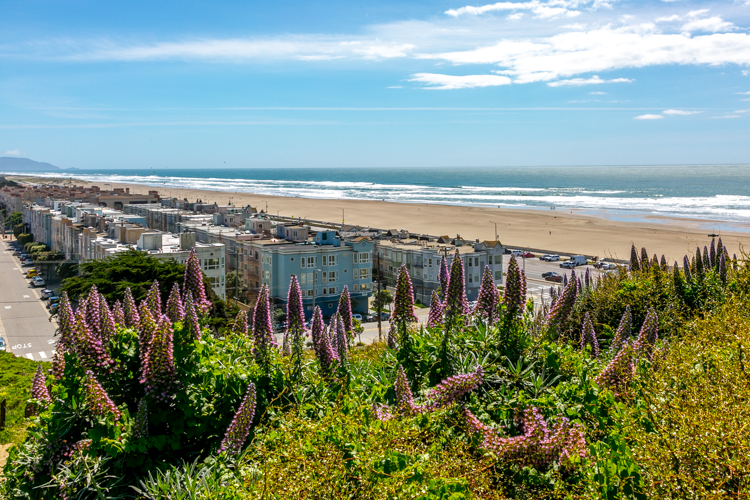 If you are a San Francisco local who has never experienced the view from Sutro Heights on a sunny day, you are certainly missing out! Although typically a little foggier and cooler than the weather in other San Francisco neighborhoods, this hilltop park features a magnificent glimpse at Ocean Beach, The Cliff House, and Sutro Baths.  A quick walk down the Sutro Heights Stairs through the Balboa Natural Area will take you to Ocean Beach and the beginning of the Great Highway. Sea Cliff is known as one of the more glitzy areas of San Francisco, making the community a pristine place to live.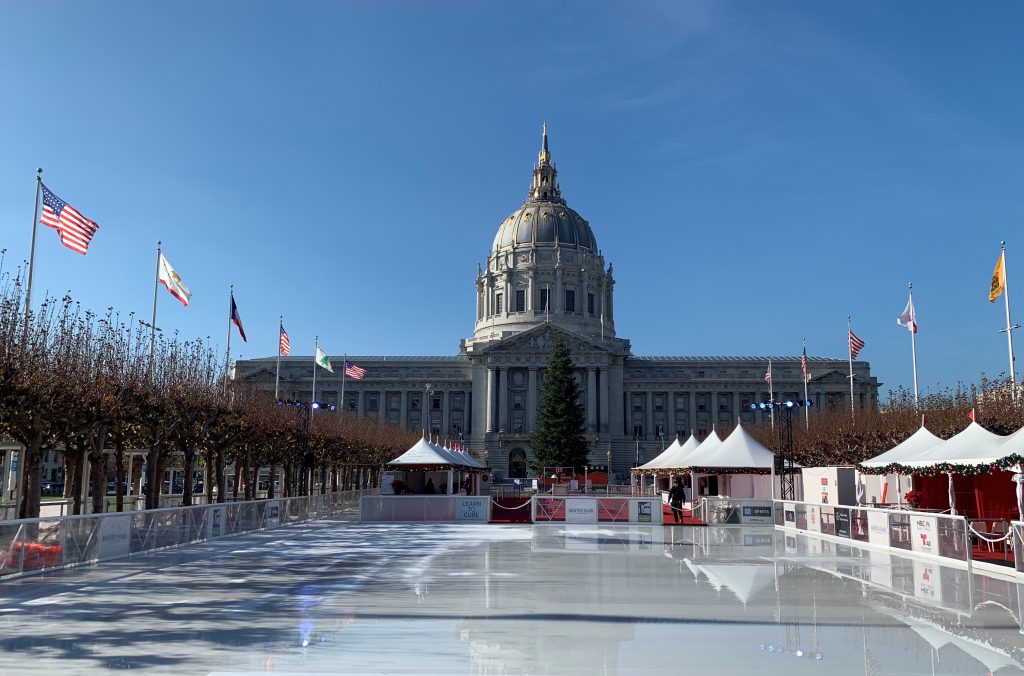 After experiencing major redevelopment in recent years, San Francisco's Civic Center has become a destination point for party-goers, families, and daytime-workers alike. This lovely plaza now features two playgrounds, grassy space for sports, street-soccer, food vendors, and much more. The Civic Center and UN Plaza also host the Heart of The City Farmer's Market each Wednesday, Friday, and Sunday.
Back to Blog