The Best SF Photo Locations
April 18, 2019
The City By the Bay has long been known as one of the most scenic places in the world; so let's take a look at some of the best SF photo locations.  Skyline shots from The Marin Headlands, Treasure Island, and the Oakland Hills never disappoint, but let's explore the best spots for scenic shots within the city limits of San Francisco.  If you're visiting SF for just the day, you can certainly hit all these awesome public locations in a matter of hours: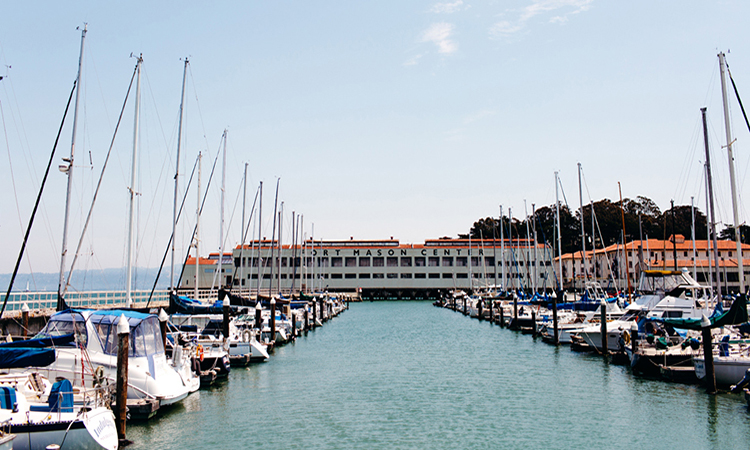 Choosing the most beautiful location in The Marina is nearly impossible, but a clear day or colorful sunset at Gashouse Cove is hard to beat.  Home to some of San Francisco's most sumptuous sailboats and yachts, photographers often seek out this spot on sunny days and during sunset.  Surrounded by Fort Mason to the east, The Marina Green to the west, and Alcatraz north, The Marina is a nautical neighborhood offering tremendous views all-around. This scenic seascape luckily has studio and one bedroom apartments available next door to Fort Mason and Safeway.  You can live the life of luxury in your newly-renovated Marina District home!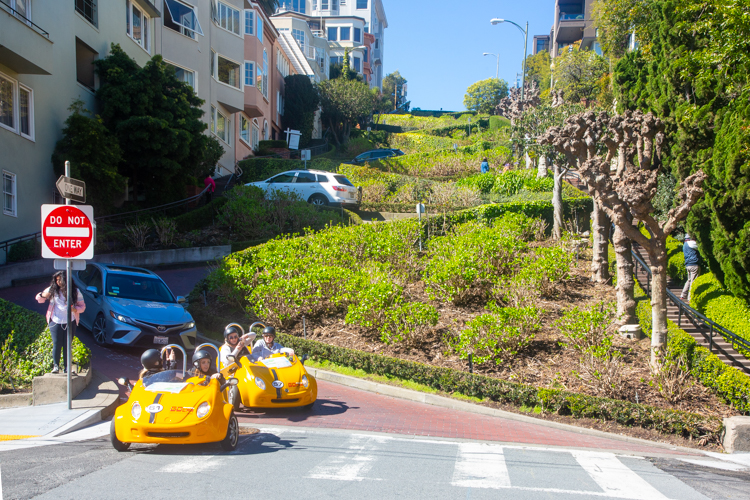 Do not expect an empty road if you visit the intersection of Hyde and Lombard Street atop Russian Hill. World-renowned as "The crookedest street in the world," Lombard also offers unbelievable views of the downtown skyline, Bay Bridge, Alcatraz, and much more.  The area is packed with tourists and aspiring photographers also looking to score Instagram likes, so be patient to get the perfect shot!  Just one block away from the tourist activity on Lombard Street are some of the most breathtaking apartments in San Francisco.  The views and high-end furnishings inside these deluxe homes are sure to impress any guest you have visit your beautiful residence. Also, just down the block are the picturesque Aquatic Cove, Ghiradelli Sqaure, and Maritime Garden.
Another location constantly swarmed with tourist activity is the nearby Pier 39 and Fisherman's Wharf.  Despite the overload of fanny packs and khaki shorts, this is actually considered a very scenic area.  The sun-bathing sea lions are an iconic piece of San Francisco scenery and who wouldn't enjoy a hot sourdough bread bowl full of clam chowder on a foggy day?  In spite of the bad rap Pier 39 has earned for its crowds and unauthentic atmosphere, there are plenty of excellent restaurants, museums, boutiques, and watering-holes right on the water.  Spend a couple hours in North Beach and you are sure to find some delicious sea food and good times.  Looking to live like a local? Trinity offers one bedroom apartments at multiple properties within walking distance of all the fun to be had in North Beach.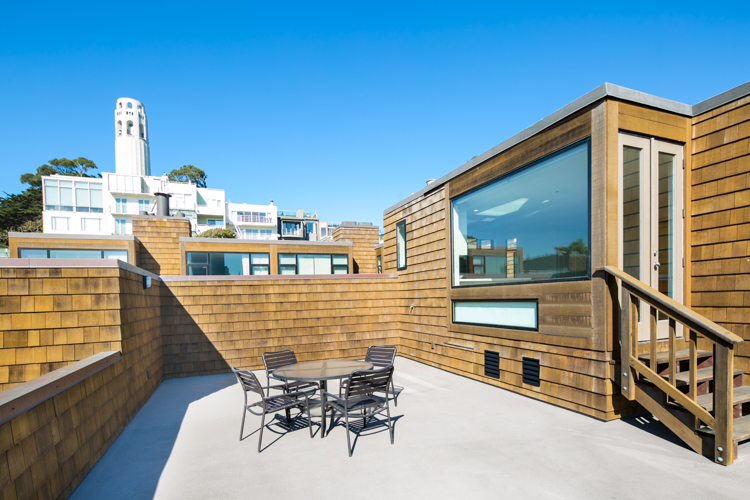 The many hills across San Francisco have greatly contributed to the city's reputation as one of the world's most scenic urban locations. One hill that has become a true landmark of SF is Telegraph Hill and the historic Coit Tower extending from the top.  The public space is known as Pioneer Park and it is heaven for anyone looking to capture a beautiful photo.  Whether you wait in line to visit the top of Coit Tower or hike around the many scenic staircases and walking paths, photographers can be found along the Greenwich and Filbert Steps attempting to capture shots of the greater Bay Area and colorful parrots inhabiting the neighborhood.  A cozy and reserved neighborhood, Telegraph Hill provides a peaceful adjacency to the Financial District, North Beach, and The Embarcadero.  Surprisingly affordable and high-end housing is available in the area in the form of classic and renovated studio apartments. Stationed at 350 Union Street, The Telegraph Hill Apartments provide some of the best value within walking distance downtown.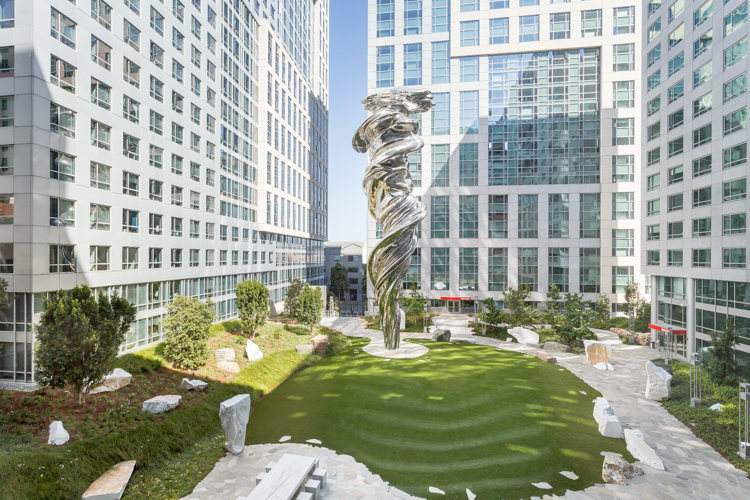 One of the newer photography hot spots in San Francisco is Piazza Angelo located at the corner of 8th and Mission in SoMa.  Known for its glistening 92-foot Venus de Milo inspired statue, this magnificent courtyard is packed with artwork created by the renowned late artist, Lawrence Argent.  Argent is well known for his works that include a 56-foot rabbit in the Sacramento Airport, a 40-foot bear outside the Colorado Convention Center, and a 50-foot panda atop a mall in Chendu, China.  Trinity founder Angelo Sangiacomo had a deep appreciation for art and this passion can be displayed in the meticulously crafted courtyard that lies between the 33 8th, 1190 Mission, and 1188 Mission apartment buildings.
A more well-known public space located one block away is San Francisco's Civic Center.  The historic city hall building is impossible to miss as it sits beside the Asian Art Museum, SF Public Library, and Supreme Court.  "Off the Grid: Civic Center" and the nearby UN Plaza each host a variety of food trucks most days and the bustling Heart of the City Farmer's Market runs on Wednesdays.  The open grassy space is painted with soccer fields and often hosts holiday and seasonal celebrations such as the Winter Wonderland at Civic Center last winter.  Anyone looking to live in the heart of the city at an affordable price should certainly tour Trinity Towers.  These twin high-rise buildings offer proximity to everything in San Francisco and access to photograph all the exciting events occurring all around you.
View this post on Instagram
San Francisco residents know that there is no better way to spend a sunny afternoon than lounging around Mission Dolores Park.  Usually packed on weekends, the best time to get the ultimate shot is on a weekday morning when you can pretty much have the park to yourself.  The best place to get your picture is at the corner of 20th and Church Street, otherwise known as the location of "The Golden Fire Hydrant."  This iconic destination has been featured in SF imagery for decades and is the perfect place to wow your friends with the quintessential Dolores Park photo.  This prominent park is known for its sunny micro-climate and nearness to tons of dive bars, music halls, and trendy bistros.  The namesake for the Mission District comes from Mission Dolores de Asis, the oldest building in the city of San Francisco.  Next door to the historic mission are studio and one bedroom apartments available for lease that come with access to a sleek pool deck. Check out this trendy neighborhood today!
If you haven't spent a day in the Sea Cliff area, you are missing out on one of the most stunning coastal regions in the country.  Located in the northwestern corner of the city, Sea Cliff is composed of attractions such as Lands End, Sutro Heights, The Cliff House, Ocean Beach, The Sutro Baths, and much more. Packed with a myriad of trails and walking paths, Sea Cliff is a dream come true for any outdoorsy type.  Currently, Trinity offers newly renovated Sutro Heights apartments with striking views of Ocean Beach down below.  Imagine strolling from your bedroom down the Sutro Heights Stairs to Ocean Beach in a matter of minutes.  It can't get any better for someone looking for a beautiful home near the beach.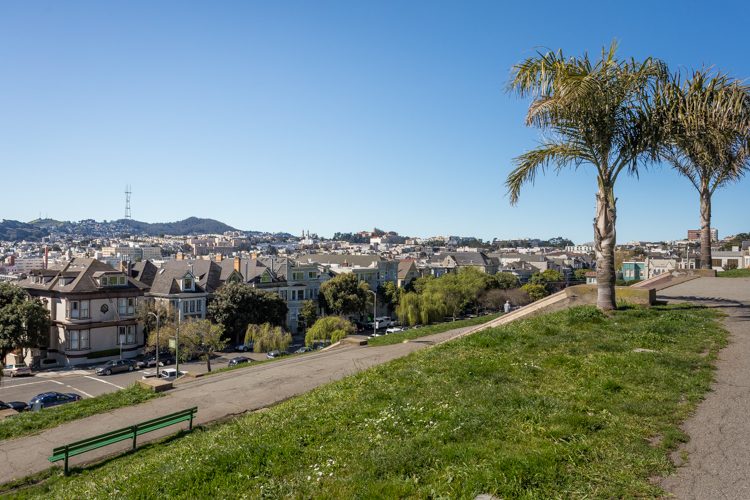 These two grassy hilltop parks lie in the center of the prosperous Pacific Heights neighborhood known to be home to many of San Francisco's elite. Renowned for their gorgeous views, designated dog-friendly areas, and playgrounds for children, these two parks are the perfect place to enjoy a leisurely afternoon.  Although located in the heart of San Francisco, Pacific Heights residents can attest to the neighborhood's reputation as one of the most tranquil residential locations in the City.  Trinity has been a proud member of the Pacific Heights community for many years and we offer fully furnished housing inside two of Pac Heights most illustrious high rise buildings.  Find your dream Pacific Heights home at Clay Park Tower or 2000 Broadway today.
Ina Coolbrith Park and Fay Park
Looking for a small, quaint park with all the San Francisco feel but without the tourists?  Two of the best options are located in between our 1000 Chestnut and Crystal Tower Apartments at 2140 Taylor Street.  Ina Coolbrith Park features beautiful skyline views of the Transamerica Pyramid, Salesforce Tower, Coit Tower, and the Bay Bridge.  Fay Park is at the bottom of the crooked Lombard Street one block from 1000 Chestnut and includes a serene tiered garden and lavish gazebos. Although not mentioned in our 10 Places to Picnic in SF blog, it is certain that each of these locations would make for the perfect afternoon lunch spot.  However, make sure to keep your eyes peeled since each of these parks are very small and easy to miss.!
View this post on Instagram
To any of our readers looking to share their favorite photo locations in San Francisco, follow @trinitysfapartments on Instagram and tag us with the hashtag #TrinityPhotoContest.  Followers who submit the best photos through the month of May are eligible to receive a gift card whether or not they are a resident of Trinity.  Now get out there, enjoy the weather, and take some awesome photos!
Back to Blog