San Francisco Holiday Events 2019
November 7, 2019
The 2019 holiday season is officially upon us and San Francisco is set to have another eventful year full of wonderful festivities. Whether you're excited about ice skating, tree lightings, symphonies, ballet, or the endless array of food, San Francisco is the place to be this holiday season! No matter which SF neighborhood you reside in, there will be fantastic local celebrations throughout November and December. Enjoy our guide to all the best San Francisco holiday events in 2019!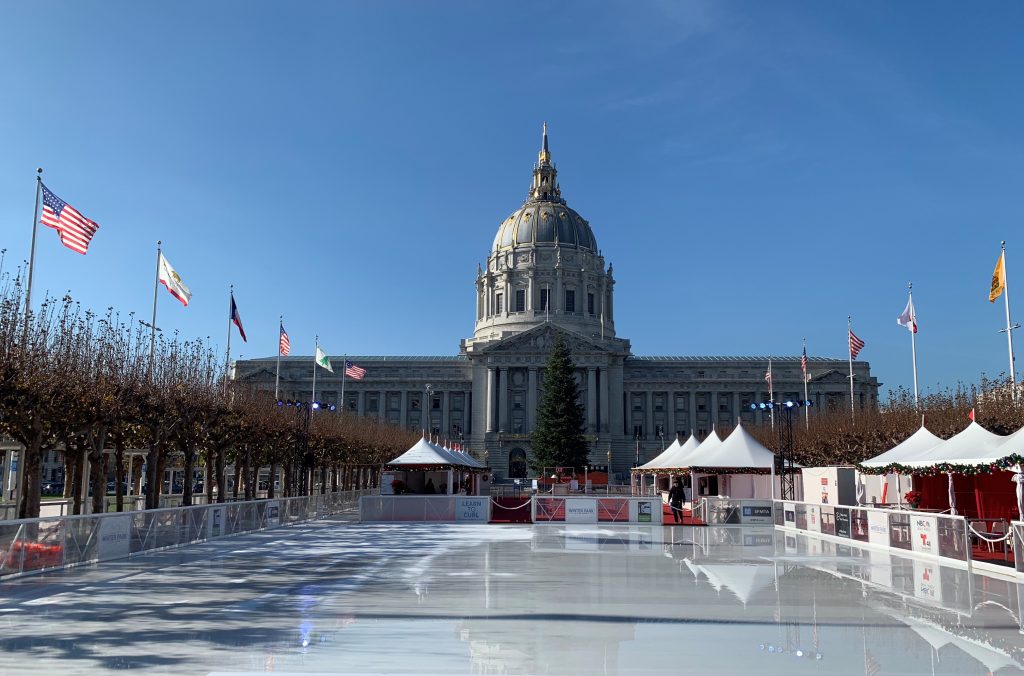 Last year's "Winter Wonderland" at Civic Center was a massive success and guests will once again be able to ice skate at this scenic venue in 2019. Located right in front of City Hall just steps from Trinity Place, Bill Graham Auditorium, Civic Center Bart, and various other attractions, the Winter Park at Civic Center will be bustling with activity November 22nd, 2019 through January 5th, 2020. If you can't wait that long to lace up your skates, the Holiday Ice Rink at Union Square will be open November 6th, 2019 through January 20th, 2020.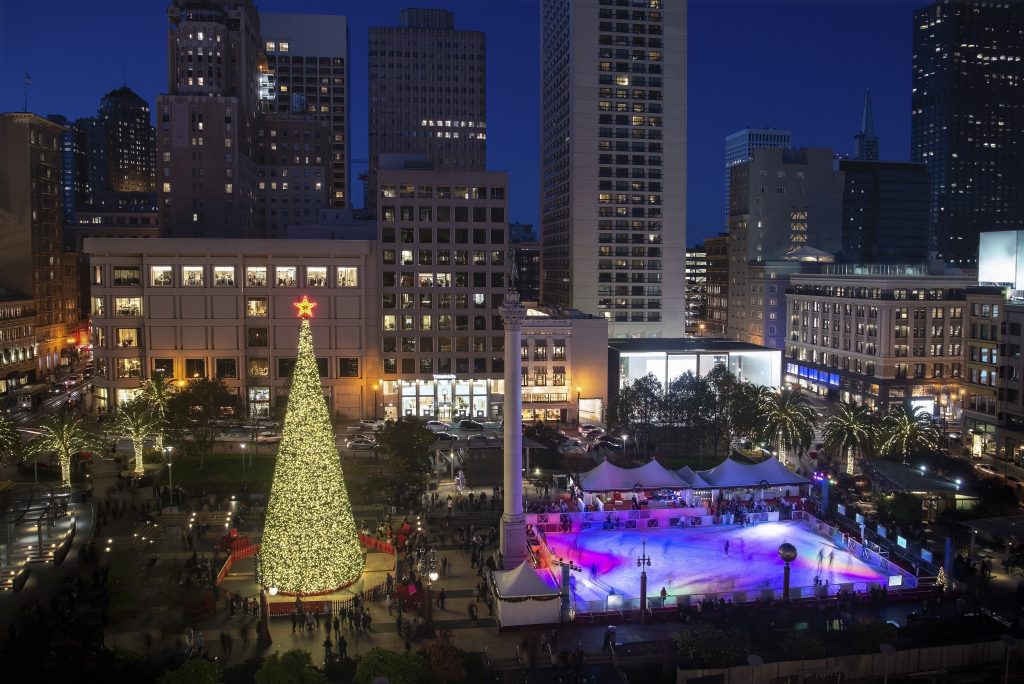 The most popular tree lighting ceremony in SF will occur next door to the ice rink located in Union Square. This annual event will take place for the 30th consecutive year on Friday, November 29th at 6:40 pm but spectators are encouraged to arrive early for the festivities. Another annual celebration will occur at Pier 39 with the tree being lit once an hour for 5 hours in a kaleidoscope of colors each night from 5 pm to 10 pm. This event will begin on November 26th and end on January 5th in the North Beach neighborhood of San Francisco. Anyone searching for local housing should certainly venture over to the nearby 2133 Stockton or Crystal Tower apartments.
Although SF is already filled with Christmas Spirit, the 17th annual Turkey Trot will take place in Golden Gate Park on the morning of Thanksgiving. Bring friends or family and participate in any of these three great races!
8:00 am "Kids Gobbler Chase" 100 Meter race
8:40 am "Pilgrim Promenade" 3 Mile race
8:40 am "Turkey Trail Trot" 5 Mile race
This event, in one of San Francisco's best parks, will include a parade, food, football, and feasting!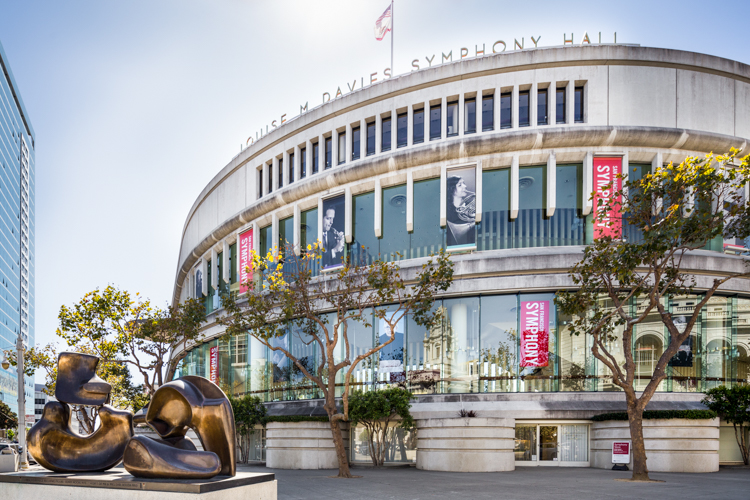 San Francisco's world-renowned Symphony needs little help convincing crowds to attend their impressive and unique holiday shows. Positioned just a few blocks from the 1188 Mission, 1190 Mission, and 33 8th apartments at Trinity Place, Davies Symphony Hall will be a substantial participant in the season's festivities. Holiday shows include:
Christmas with Megan Hilty & Cheyenne Jackson  – Wednesday, December 4
Holiday Gaiety – Saturday, December 7
Deck the Hall – Sunday, December 8
A Merry-Achi Christmas – Sunday, December 8
Handel's Messiah – Friday, December 13 – Saturday, December 14
Music for Families: Holidays Around the World – Saturday, December 14
Holiday Brass – Sunday, December 15
Love Actually—Film with the SF Symphony – Tuesday, December 17 – Wednesday, December 18
'Twas the Night—A Festival of Carols – Thursday, December 19 – Friday, December 20
A Charlie Brown Christmas—LIVE! – Saturday, December 21 – Monday, December 23
New Year's Eve with Seth MacFarlane and the SF Symphony – Tuesday, December 31
View this post on Instagram
Right next door to the SF Symphony is another fantastic venue offering wonderful holiday shows. The War Memorial Opera House will play host for the SF Ballet's 75th annual production of The Nutcracker throughout December. Complete with art, athleticism, color, talent, stunning design, and a live symphony, the San Francisco Ballet consistently tops lists as one of the best places in the world to watch The Nutcracker. This dreamy performance follows the imagination of young Clara and her toy nutcracker who comes to life as a prince and leads her through a magical Winter wonderland
One more fantastic venue for viewing this holiday season's best shows is A.C.T's Geary Theater in Union Square. The world-famous Charles Dickens musical runs this year from November 29th through December 24th! "Featuring a lively cast of dozens, delightful music, gorgeous costumes, and deliciously spooky ghosts, this version of A Christmas Carol, adapted by Paul Walsh and Carey Perloff, stays true to the heart of Dickens's timeless story of redemption and brings a playful sensibility to his rich language."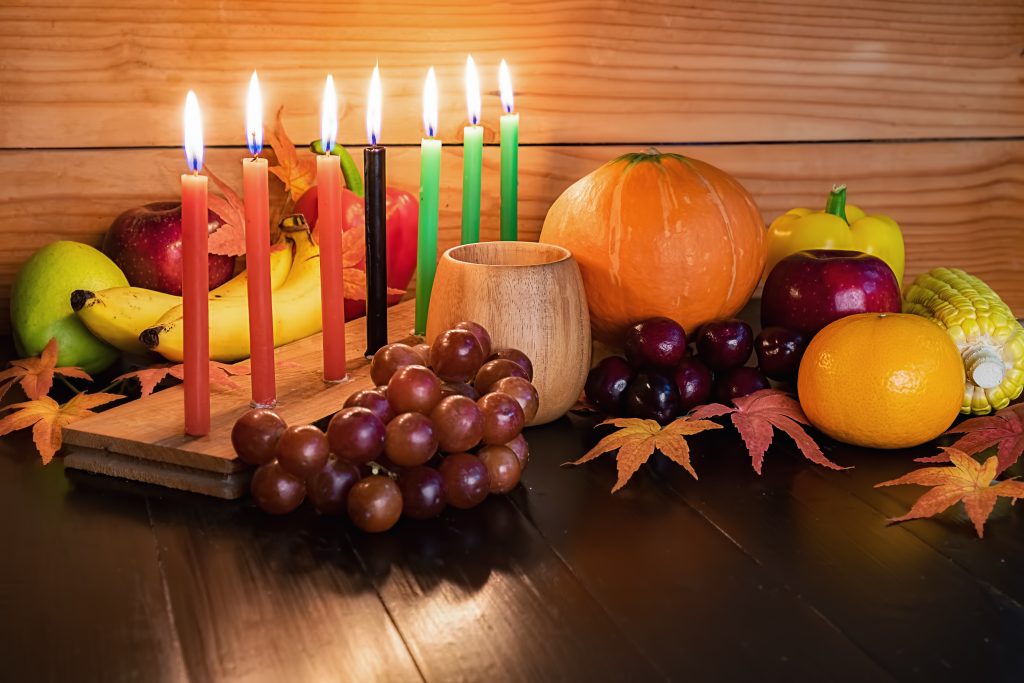 If you're in search of the premier San Francisco Kwanzaa experience, look no further than the 2019 "Alive and Free" Kwanzaa Celebration at the Bayview Opera House on December 26th from 6-9 pm. This community celebration will include a potluck, traditional dance, and shared knowledge about the principles of Kwanzaa. This event is open to all ages, and tickets to the celebration are entirely free! Bring your favorite dish and enjoy the 2019 Kwanzaa festivities right here in San Francisco!

San Francisco's cutest holiday tradition will be back in Union Square for its 33rd consecutive year November 22nd through January 1st. Open 10am to 7pm (with the exception of Thanksgiving and Christmas), this year's Windows will display kittens, puppies, chinchillas, rabbits, and guinea pigs available for adoption. Presented by the San Francisco SPCA, this yearly event allows customers to take home pets from Macy's the same day!
Anyone looking to experience possibly the craziest event of the holiday season is advised to attend San Francisco's SantaCon on Saturday, December 7th. This annual event attracts over 10,000 21+ attendees to bars and clubs around San Francisco, all while dressed in Santa costumes. SantaCon also features a toy drive, and attendees are recommended to bring a toy for donation. There is no registration or tickets for the event, so make sure to have your Santa costume ready if you want to be a part of San Francisco's biggest bar crawl of the year of December 7th. The event will take place in all the great historic neighborhoods of SF including Pacific Heights, Russian Hill, North Beach, and The Marina District.
View this post on Instagram
If you want to get a second use out of your Santa costume and have enough energy to run 5 kilometers the next day, the Great Santa Run will occur Sunday, December 8th. This race around the Presidio will begin and finish at Sports Basement at the East Beach Parking Lot. The Great Santa Run 5k will begin at 8:30 am, and the Kids Rudolph 1 Miler will start at 9:10. Enjoy unbelievable Golden Gate views as you race around San Francisco's scenic waterfront!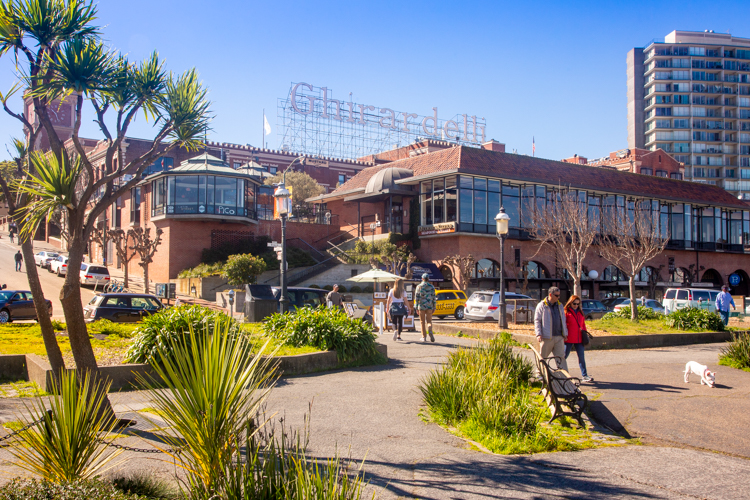 Searching for the best Hanukkah celebration in San Francisco? Check out the Pop-Up Glowing Hannukkah Party at Ghiradelli Square on Sunday, December 22nd, from 3-6 pm. Guests are recommended to wear their favorite light-up and glittery clothing as they light candles, enjoy live music, make crafts, play games, and enjoy delicious food. This wonderful location at Ghiradelli Square features fantastic local shops and activities just a few blocks from the scenic 1000 Chestnut apartments in Russian Hill!
Illuminate SF continues to brighten the city of San Francisco with mesmerizing light displays all across The City. This year's Festival of Light runs Thanksgiving through New Year's Day and will be bringing a variety of permanent and temporary light art around SF. This season's installations include:
We wish you a very happy holiday season and hope you find enjoyment in these fantastic opportunities available across the city of San Francisco!
Back to Blog