Safely Enjoy The City on SF's Slow Streets
August 27, 2020
The city of San Francisco has done an excellent job creating additional open space for residents to recreate safely during the ongoing pandemic. The implementation of "Slow Streets" across iconic SF neighborhoods creates a welcoming and accessible space for those on foot, bike, scooter, wheelchair, skateboard, or other forms of micro-mobility. The Slow Streets Program has significantly helped to create social-distancing and allow for all members of the community to enjoy their neighborhood. Let's take a look at the Slow Streets in your area of SF!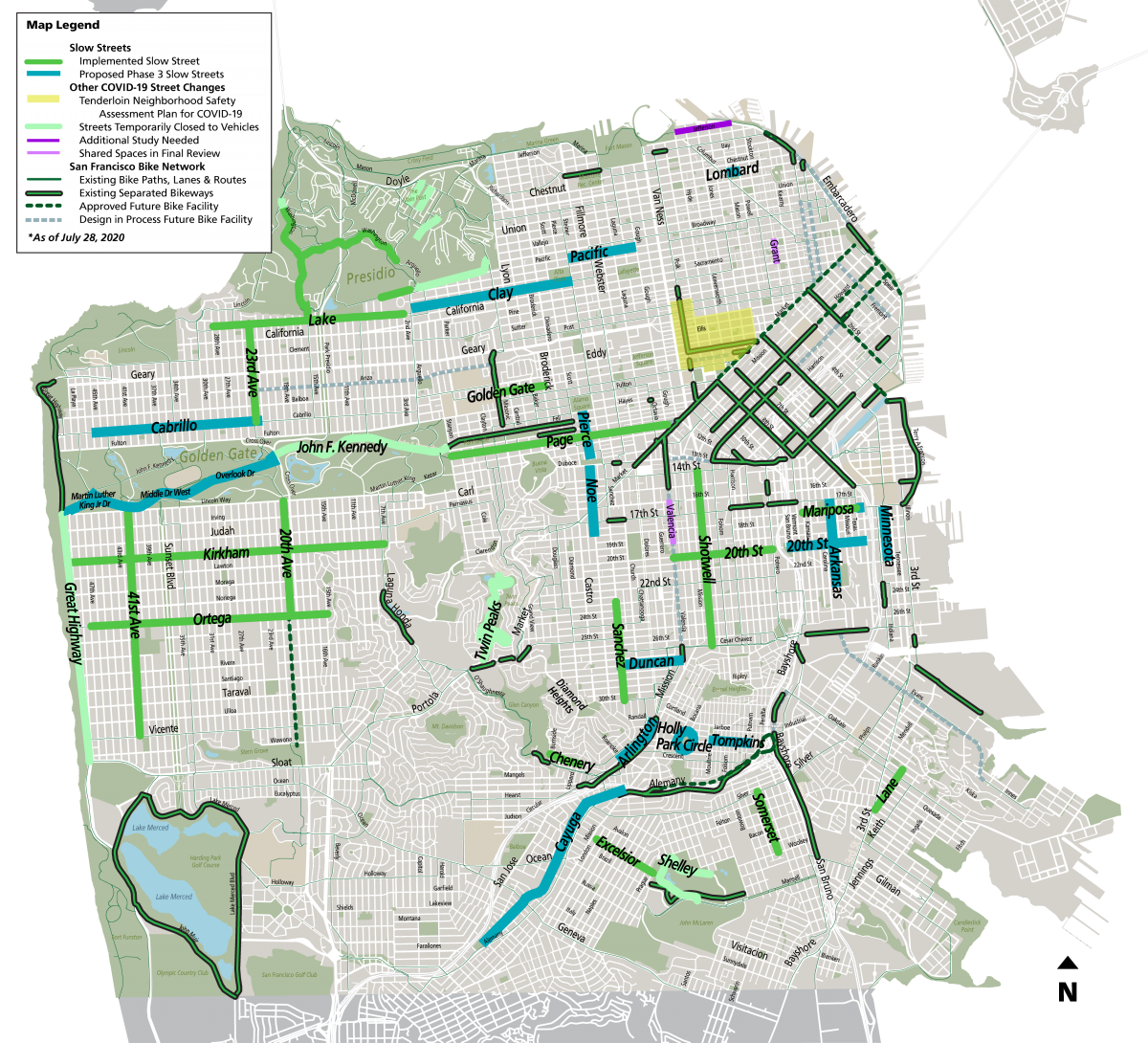 View this post on Instagram
Already home to new and improved wide bike lanes, SoMa does not have the abundance of Slow Streets present in other areas. However, with these spacious streets, biking, walking, or scootering through SoMa and up Market Street couldn't be easier, and private vehicles are prohibited in many areas to create additional space. Residents of the nearby Trinity Place and Trinity Towers can now easily venture to Page Street near Civic Center, which is an official Slow Street that travels directly to Golden Gate Park! Another Slow Street in the area includes Golden Gate Avenue from Masonic Avenue to Broderick Street near the 2240 Golden Gate apartments.
View this post on Instagram
The warm and sunny Mission, Castro, and Noe Valley neighborhoods also have a network of Slow Streets great for safely enjoying the outdoors! With 20th Street slowed from Valencia Street to Potrero Avenue, and Shotwell Street slowed from Cesar Chavez to 14th Street, nearby Mission Dolores residents have options to visit. Sanchez Street, in the Noe Valley/Castro area, is also closed to cars from 23rd to 30th streets. A handful of additional Slow Streets have been proposed for a Phase 3 rollout, and you can expect this network of accessible and safe streets to continue growing.
One of The City's most popular locales for biking, jogging, boarding, or any other form of recreational activity, San Francisco's Presidio provides a plethora of Slow Streets to enjoy. Bordering both Pacific Heights and The Marina District, this coastal urban forest is even more enjoyable with a decreased vehicle presence. The neighboring Marina also boasts a variety of permanently open space that extends from The Presidio through Crissy Field, The Palace of Fine Arts, Marina Green, and Fort Mason across from the Marina Cove apartments. Although Pacific Heights does not yet have any implemented Slow Streets, both Clay Street from Arguello Boulevard to Steiner Street and Pacific Avenue from Steiner to Gough streets, have been proposed for Phase Three. Residents of the nearby 2000 Broadway, 1890 Clay, 2200 Jackson, and 2380 California apartments are also encouraged to visit the many establishments offering outdoor services on Fillmore and Union Streets.
View this post on Instagram
The famed North Beach and Russian Hill neighborhoods do not yet have Slow Street, but parts of Jefferson, Lombard, and Grant have been proposed. Despite the Slow Street program not yet infiltrating the area, many popular restaurants have been allowed to expand outdoor seating into the street to allow for increased social distancing. One of the best spots to visit is Washington Square near 350 Union, 2133 Stockton, and Crystal Tower. Russian Hill residents, such as those at 1000 Chestnut, can also easily venture to the multitude of Aquatic Park establishments and check out the progress on Francisco Park.
Possibly the most scenic Slow Street in San Francisco, Twin Peaks Boulevard gives bikers, walkers, and scooter riders a car-free route up, down, and around Noe and Eureka Peak. The 925-foot summits provide an excellent 360 vantage point of The City skyline, bridges, ocean, Marin, East Bay, and beyond! The popular tourist destination has resulted in a packed parking lot for many years, and the closure to cars opens the streets to safe recreation. The road around Twin Peaks includes a figure 8 popular with skateboarders, bikers, and pretty much anyone looking for a quick hike.
View this post on Instagram
Another neighborhood with plenty of Slow Streets to navigate includes The Richmond. Positioned between The Presidio and Golden Gate Park, Richmond Residents can easily visit the Slow Streets located within each large park. A majority of John F. Kennedy Boulevard has now been closed to vehicles inside Golden Gate Park, and an additional stretch has been proposed. Currently, both Lake Street from 28th to Second avenues and 23rd Avenue from Lake to Cabrillo streets are implemented Slow Streets. About as bike-friendly as it gets, we certainly recommend taking a ride to The Richmond!
No neighborhood has a quantity or quality of Slow Streets quite like The Sunset. The Great Highway is closed to cars from Sloat Boulevard to Balboa Street, meaning you can walk or bike all the way from Sutro Heights to The San Francisco Zoo on the highway along Ocean Beach! Other Slow Streets include Ortega Street from 47th to 15th avenues, Kirkham Street from 7th Ave to Great Highway, 41st Avenue from Lincoln Way to Vicente Street, and 20th Avenue from Lincoln Boulevard to Ortega Street. Enjoy The Sunset's many pretty colors as you safely coast your way down The City's Slow Streets.
Back to Blog